Mimey's Thread.
I've made some overworlds of some characters from Anime and Games.
Please tell me what you think =D
These sprites are not for public use!
Don't try to steal, take or whatever without permission!
Wich you won't get xD
Also, don't whine about me using pillowshade on some overworlds.. I like that style for hair, not going to change that..
General sprites
Here are some sprites I've made from some games and the Animé.
I really like how the new girl came out and the boy Gold from the new Heart Gold and Soul Silver version =D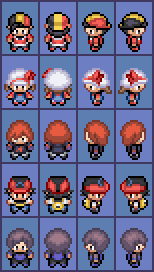 In order: Gold, New G/S Girl, Silver, Ash and Paul.
Hoenn Gymleaders
Alright, I thought they looked terrible in the R/S/E generation, so I couldn't resist =D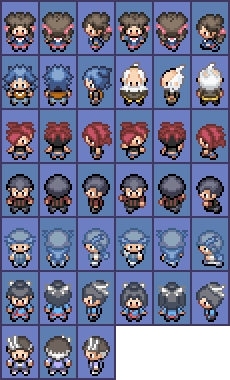 In order: Roxanne, Brawly, Wattson, Flannery, Norman, Winona, Liz and Tate, Juan.
Johto Gymleaders
I'm still busy with making all the Gymleaders of Johto. Here are the first four.
In order: Falkner, Bugsy, Whitney and Morty.
Hoenn Frontier Brains
They looked awful too, so I decided to remake them to, still not done tho.
In order: Anabel, Tucker
Random Stuff
These two were planned to be the main characters in my comic, wich I decided not to make. =\

In order: Kaizen, Carol
.. I was bored so I've made this simple edit:

Hope you like them! =D
Remember, don't steal! =D
​
Last edited: