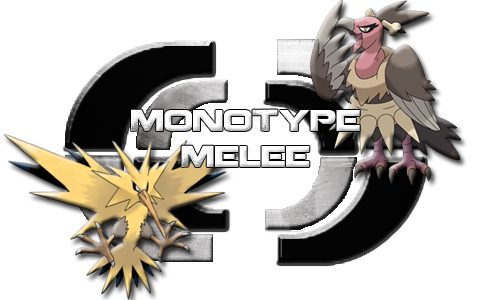 Welcome one and all to the Monotype Melee, where you are randomly assigned a type per round to fight off the unknown opposition. Be prepared for showdowns against all odds, surprise strategies and many more!
Rules
• All Teams are a 6:0 Monotype of the distributed type
• All battles must be completed on either Pokémon Online or Pokemonshowdown
• If a D/C happens early game, both players will replay doing the same moves.
• If a clear winner can't be decided when a D/C happens late game, then both players will replay their game.
• Follow all general Serebii rules.
• All Matches are Bo3
• No Johns
• This is a 6th Gen OU Tournament
• Each Round will go for one week, so members have a week to complete their battles.
• It is up to you to get your match done. I will not pm you telling you when each round is up.
• Activity wins are based off you
actually contacting your opponent on Serebii
, if i am unable to tell that contact was made on serebii i will resort to coin flips, all coin flips are final.
Joining
Post In
The Types
At the start of each round you will be pmed a userbar corresponding to a specific type
Due to Eliteknight being a participant MMS will pm whomever his opponent is their type to prevent a rigged bracket
Not all types will be used in every round some might be doubled up others will be skipped entirely






Bracket
Deadline
Finals ends on October 26th at 10pm gmt-7
Credits:
Astral Shadow - Userbars
Kingothestone - Write up
Turpoo - Main Banner
​
Last edited: