After getting into the mother thing, and playing the games for a few hours, I decided to make some drawings of the two psychic boys. Some I made a while ago, one of them, I drew yesterday.
Here is one of Lucas when he falls in brawl
, I think he's adorable X3, read the description, oh and the scanner messed up the shading but who cares =P
Here's one I thought up while reading something kinda messed up
, but let's not talk about that XD, anyway, I COMPLETELY changed what I was aiming to do, due to wanting to share it with y'all, the sweet, not so innocent peoples(yeah, with an S) of the niterwebs. Once again, read the description to know a bit about why it looks like that, and so on and so forth. The name brand there is Ecko Unltd. for those of you that live under a name brand rock. Ness makes it look good =3
Based off the Ness sprite on MOTHER2
, aka earthbound. I love his smile, I just did this for the cuteness, so I didn't pay much attention to what I was doing, I got lost in his smile really XD. His shoes? Converse allstars =D
This one is probably my best drawing to date,
although I didn't come up with the pose, like I said, there are based on Brawl, deal with it. If you don't feel like reading the description, well then you're just ignorant -_-.
EDIT
, due to this site's sensoring, you can't see the link right, so just click on the top left picture of Ness kicking. DOUBLE EDIT. Since it's so hard for people to search, I'll just PB it
Here you go, kick*ss ness: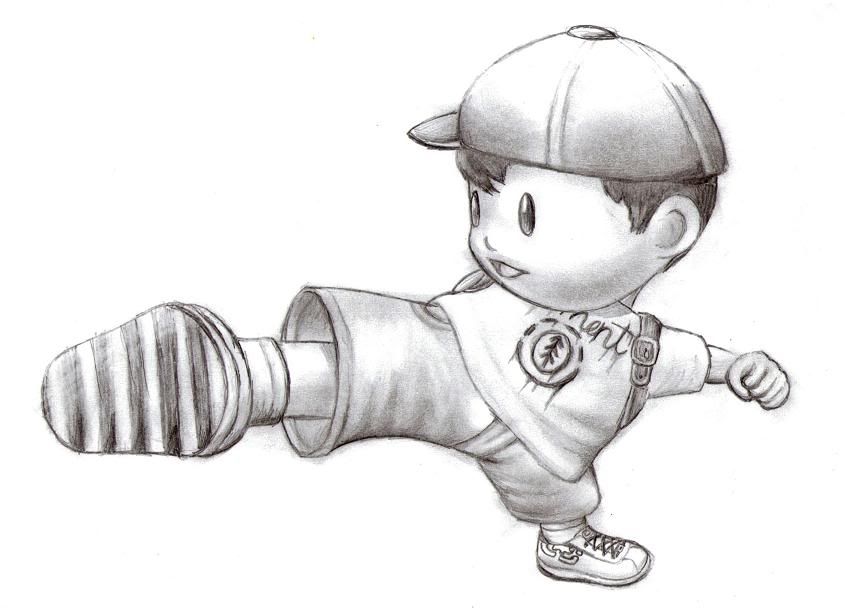 PLEASE COMMENT
, it is my freind's and your comments that make me feel like drawing at all. When I went to get these scanned, I was almost forced to let them print a copy, which I signed of course, I felt all giddy lol.
Last edited: