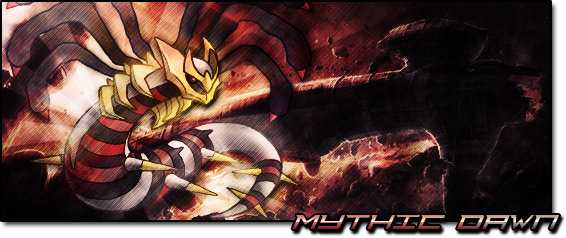 Welcome to Mythic Dawn. Our guild wishes to take a firm grip in the balance of power that exists among the guilds of Serebii. However, no guild can succeed off the wishes of just one man. Because of this, I extend my hand to you, stranger, and ask you to join me in my quest for dominance in this place. Let us be emissaries of destruction, of change, and rule with an intimidating iron fist.
Follow all
SPPf rules
Show respect to your fellow guild members
Stay active in the guild and participate in battles
Participate in the thread at least once per two weeks or face inactivity penalites
All battles are guild battles unless stated otherwise
Winner should always post the result of the battle, unless he posted last in the thread. In that case the loser will post the result.
Have fun!
All you need to do to join is to fill out the form listed below:
Serebii Username:
B/W(2) Friendcode:
PS / PO Username:
Competitive Experience:
After filling out and posting this form, any approved tester will contact you to give you a test battle and place you in an appropriate rank. They will post an analysis of your battle and justification for your rating.

In this guild, there is a currency which is the Septim. Upon joining, all members will receive 1000 Septim. You will recieve Septim for completing various tasks in the clan which you will be able to spend in the clan shop. The following tasks will result in the earning of Septim:
Win a battle: 50 Septim
Lose a battle: 10 Septim
Breed a Pokemon for the shop: 50 Septim
Answer a breeding request: 50 Septim
Win a war battle: 150 Septim
Any appointed authority figure is also free to distribute a small amount of Septim if they see a valid reason to do so, and a post will be made explaining what was worthy of receiving the currency.

This is where you can spend your hard earned Septim. Check back for any Pokemon you need for your team! Pokemon from this shop are non-redistributable unless stated otherwise by the breeder! Requests can be submitted in the thread and anyone who feels up to the task may breed that Pokemon. The price for Pokemon is dependent on tier -- whatever the latest stage form of that Pokemon's tier is is how much it will cost. The prices are 200 for NU, 300 for RU, 400 for UU, and 500 for OU. BL tiers are always the price of the tier the Pokemon is playable in.
PokeN3rd's Mienfoo |
Gender
: Female
Nature
: Naive |
Ability
: Regenerator |
HP
: Ice 70
IVs
: 30 / 31 / 30 / 31 / 31 / 31 |
EVs
: UT
Location
: Route 3 |
Date
: 5/21/2012
Moves
: Doubleslap, Swift, Calm Mind, Force Palm |
Egg Moves
: n/a
OT
: Tyler |
ID No
.: 07522
Cost
: 400 Septim
PokeN3rd's Deerling |
Gender
: Male
Nature
Jolly |
Ability
Chlorophyll |
HP
: Dark 59
IVs
: 31 / 31 / 31 / 13 / 31 / 31|
EVs
: UT
Location
: Dragonspiral Tower |
Date
: 1/9/2013
Moves
: Faint Attack, Take Down, Jump Kick, Aromatherapy |
Egg Moves
: n/a
OT
: Tyler |
ID No
.: 07522
Cost
: 200 Septim
PokeN3rd's Lillipup |
Gender
: Male
Nature
Adamant |
Ability
Pickup |
HP
: Dark 59
IVs
: 31 / 31 / 31 / 01 / 31 / 31|
EVs
: UT
Location
: Route 1 |
Date
: 3/22/2012
Moves
: Leer, Tackle|
Egg Moves
: n/a
OT
: Tyler |
ID No
.: 07522
Cost
: 200 Septim​
Last edited by a moderator: