And, as if by magic, the webmaster appeared...
Staff member
Admin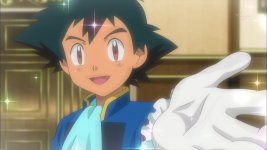 Ash and Serena! Getting One at a Dance Party!!
Heading towards Snowbelle City, Serena starts practicing to get her third Princess Key. However, she soon gets an invitation to a dance party for Pokémon Showcase performers. The rules for the party are that one male has to partner up with one female so Serena asks Clemont to be her partner, with Eevee and Bunnelby as their Pokémon. However, Miette turns up, having been invited, and asks Ash to be her partner, stunning Serena. What will happen at this party?
Visit The Episode Guide
Discuss