I have been using this team on PBR WiFi for awhile now, and I am amazed at the streak I get with this team. It counters a lot of strategies, or at least the ones I have seen so far, and it ends up destroying my opposition.
At a glance.




That's right, it's a Trick Room team.
Pictures provided by Photobucket​
The Opening Act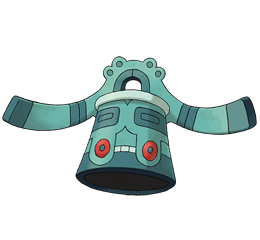 Bronzong@Occa Berry
Relaxed nature - Levitate
252 HP/86 Atk/128 Def/44 Sp.Def
-Trick room
-Light Screen
-Zen Headbutt
-Gyro Ball
This thing is my best friend. Bronzong takes hits like a champ, eating up a Sunny Day boosted Fire blast and survives Kyogre's Water Spout. Basically, Bronzong can take a hit and hit back hard. Gyro Ball is there for power. Speed IV of 1 for great justice.
The Big Idea
A Trick Room team without Bronzong is like a peanut butter sandwich without the bread. He helps out himself and his teammates with Light Screen, making them bulkier than ever. Whoever he pairs up with when the battle starts drastically changes the strategy, depending on who my opponent is. If my opponent has priority users, I'll pair him up with Magmortar. Otherwise, Golem leads with him. When Golem is out however, the opponent is gauranteed to lose a pokemon or two. Light Screen is for when Bronzong has yet to take a hit and extends his survivability. Zen Headbutt for the flinch rate and STAB (Besides, he has a Sp.Atk IV of 1) and Gyro Ball is for awesome. Metallic, rotating awesomeness.
The Stagehand
Magmortar@Petaya Berry
Sassy nature
100 HP/128 Atk/176 Sp.Atk/106 Sp.Def
-Follow Me
-Overheat
-Psychic
-Cross Chop
Before you ask, Cross Chop is legal with Follow Me. It is one of the moves Magmar already knows when you catch him in XD. Also, I'm not changing the nature. It's a one of a kind.
The Big Idea
Follow Me Magmortar was the best thing that as ever happened to me. When paired with Bronzong, he can take incoming Flamethrowers and Fake outs, possibly burning pokemon like Kangaskhan or Weavile. Since he's taking two hits for Bronzong, Petaya Berry gives me insurance against some notorious pokemon like Groudon, Umbreon, Cradily, etc. Psychic hits Gengar and other pokemon hard, but Overheat is overwhelmingly powerful, especially with a Petaya boost. Cross chop allows me to seriously hurt pokemon who would otherwise take my attacks with impunity like Houndoom, Blissey, Tyranitar, etc.
Sassy does come in handy for surviving enemy Surfs. seriously, he took a Surf from a Vaporeon and lived.
The Magician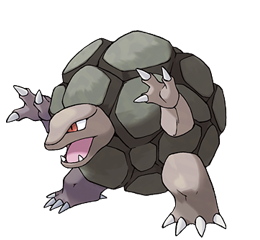 Golem@Liechi Berry
Adamant (Shiny. Don't want to change)
252 HP/252 Atk/4 Def
-Endure
-Explosion
-Earthquake
-Stone Edge
Why is Golem called 'The Magician'? Because Golem will astound you with his finale, where he makes your pokemon DISAPPEAR! He also deceives you with his NUness, confounding opponents to rid him of his presence, only for Golem to Endure incoming hits and Exploding the next turn.
The Big Idea
Paired with Bronzong when I don't think the opponent is much of a threat, or an Uber noober. Basically, always Endures the first turn and activate Liechi berry. Depending on who my opponent is, I attack accordingly. Earthquake for the possible double OHKO, Stone Edge for the dangerous Flying types (i.e. Salamence, Zapdos, etc.), and Explosion if I feel that Golem won't last for another turn. In which case, I switch Bronzong out immediately for my next pokemon.
The Comedian
Spiritomb@Leftovers
Quiet nature
252 HP/56 Def/200 Sp.Atk
-Calm Mind
-Dark Pulse
-Will-o-wisp
-Pain Split
Spiritomb likes to laugh a lot. He taunts you with his googley face and makes mean jokes about you. Oh, if only you can knock him out! But you can't. You're burned, he's got two Calm Minds, and everytime his health gets low, he takes it back from you. Dark Pulse's flinch rate doesn't help either.
The Big Idea
Simply the greatest wall any Trick Room team can salvage. Comes in when Golem explodes, which is basically a free switch-in. Calm Mind and W-o-W work in conjunction to give Spiritomb super walling capabilities. Dependant on the opponent though. Dark Pulse is important for STAB and flinchhax, and Pain Split is there to extend his survivability. I have considered Sucker Punch before, but that move doesn't fit so well here and it makes me susceptible to Intimidate switch-ins and Burns. This definately isn't your everyday Spiritomb.
The Closing Act
Sudowoodo@Expert Belt
Brave - Rock Head
252 HP/252 Atk/4 Def
-Wood Hammer
-Fire Punch
-Stone Edge
-Hammer Arm
Perfect coverage plus a Swampert check. Sudowoodo is just too epic for words.
The Big Idea
If Magmortar led with Bronzong, Sudowoodo is always there to clean up whatever mess the dynamic duo left behind in their wake. Basically, a sweeper and revenge killer. Not much to say. OHKO's Zapdos, Swampert, Hitmonlee, and KO's alot of other things that Bronzong and Magmortar couldn't. Like I said, too epic for words. :/
The Finale
Heatran@Shuca Berry
Quiet natured
4 HP/252 Atk/252 Sp.Atk
-Dragon Pulse
-Heat Wave
-Earth Power
-Iron Head
WHAT?! MIXTRAN?!?!?11?
Well, I couldn't put Explosion in. ;P
The Big Idea
I decide between Sudowoodo or Heatran whenever Bronzong leads with Golem. When I pick Heatran though, Muks hit the fan for the opponent.;089; Heatran's Flash Fire allows him to switch in with Bronzong and take incoming fire attacks. With Heat Wave, Heatran sheds blood. Earth Power and Dragon Pulse complete the Dragon/Fire/Ground combo. Iron Head is mainly filler, but gains STAB and flinchhax and allows me to tear into pokemon that Heatran would normally have trouble with, like Blissey. And besides, Heatran isn't too fond of Exploding.
Any Last Words?
This is my most succesful team on PBR WiFi and it has proven to be a lethal force. Darkrai is my only problem on WiFi but I still get a winning chance as long as Darkrai doesn't lead. Arceus, Kyogre, Salamence, Giratina, etc., aren't problems for me and I find them very easy. I'm not sure if this team can be improved but I would like some feedback.
Last Look.
;437; ;467; ;076; ;442; ;185; ;485;
Remember, this team is for PBR WiFi.