And, as if by magic, the webmaster appeared...
Staff member
Admin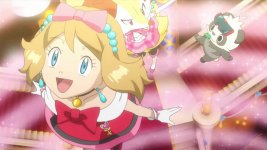 Aria VS Serena! Open the Door to the Future!!
Through to the semi-finals of the Master Class Showcase, Serena, Shauna and Jessie face a massive battle of strength and grace. However, during Serena's performance, something strange happens. Will it affect her chances and will she be able to get through to the finals against her old friend and Kalos Queen, Aria?
Visit The Episode Guide
Discuss