And, as if by magic, the webmaster appeared...
Staff member
Admin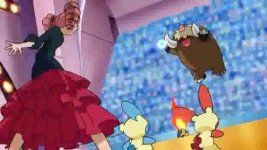 Double Battle! VS Plusle & Minun!
Now the appeals are over, it is time for the main part of the Pokémon Contest. After ending up against her rival Ursula, Dawn faces a fight against her fears when Ursula uses Plusle & Minun, the two Pokémon that caused her issues when she was a child. Will Dawn be able to overcome her fears and defeat Ursula?
Visit The Episode Guide
Discuss