Pokémon Apples to Apples (v.4)
Nothingjustgo. Presents....
Pokémon Apples to Apples
​
A couple years ago, an old buddy of mine ran probably one of the most fun games on Sppf, Apples to Apples....but with Pokémon instead. So I wish to continue that enjoyment.
Tl;DR Version
You are given an adjective and you have to submit the Pokemon in your hand that fits the most. The judge decides the winner.
How to Play
Basically, I'll PM you six Pokemon and each round an adjective is posted. You post one Pokemon (Usually) in the thread trying to match the adjective best (Most of the time). At least 36 hours after the post signalling the start of the round, the round will be ended and the host will choose a winner. Your starter Pokemon and the Pokemon you get after each round is decided by a online, 3rd-party, Random Number Generator. If you don't believe me, I can link you to the site.
If you win a round you will have your winning Pokemon recorded in the Hall of Winners and be placed into the archives which you can see below. If you win I will give you a simple choice, host the next round or play and allow me to host, however, it is preferred that you host. Either way, the winner sends me an adjective that will be used for the next round, and if they choose to host, they may allow a special round.
Every few rounds I'll do a special round (Explained a bit later). If you win a special round you will get recorded in the Hall of Winners. One kind of special round is the tournament round, but that will also be explained later. After each round, I will send you a PM with a replacement Pokemon for the one you posted. If you ever lose your list or something, I'll be keeping track of everyone's Pokemon so feel free to ask for the list.
Special Rounds
Click the spoiler here below to view all the kinds of special rounds that can happen:
Double or Nothing Round: You post two of the Pokemon you have instead of just one. You must have the best two to win. So, for example, say the adjective is Dirty. One person may use Garbodor and Arbok while another uses Gulpin and Koffing. Despite the fact Garbodor is made of trash, the second person is most likely to win as both of his Pokemon could be counted as dirty while Arbok isn't.

Vote Round: Here, instead of the judge choosing the winner, after time runs out, the judge will choose around three Pokemon. Then, players that submitted Pokemon for that round will vote ONCE on which of the three Pokemon they think matches the adjective the best. In these rounds you cannot vote for yourself, although that kind of goes without saying. Voting will last for 36 hours. In the case of a tie, we'll just go with whoever the winner of the previous round voted for.

Double Adjective Round: Rather simple. The judge will give two adjectives and you submit two Pokemon, one to fit each adjective. The person that gets the best match for both wins.

Sort Round: The judge lists multiple adjectives and the participants will submit one Pokemon, as well as choosing an adjective from the list. The judge will pick one Pokemon based on which Pokemon fits one of the adjectives the most.

Inverse Round: The judge will play one Pokemon from their hand and everyone will post an adjective. The judge will pick the adjective that best fits the Pokemon. However, no two participants may play the same adjective.

Pokémon Against Humanity Round: Instead of the judge choosing an adjective, they will post some sort of sentence (with preferably a fill in the blank) or phrase and you have to submit a Pokémon that applies.

Anything Goes Round: The judge allows the participants to play any Pokemon they want instead of from their hand. However, no two participants may play the same Pokemon.

Winner Tournaments: If I notice there is a good amount of winners than I'll organize a tournament. Only winners of previous rounds can participate and will be split into blocks. I'll announce the blocks at the beginning of each round and will run them one at a time. After everyone in a block posts their Pokemon, a winner will be chosen and they will move on to the next round. The winner of each tournament will be added into the Hall of Masters.

Super Special Rounds: Can be a combination of any of the above special rounds.
Hall of Stuff
Hall of Winners
Hall of Masters:
Winners Tournament I
Adjective - Unique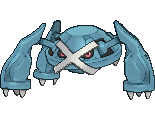 ~SilverLugia~
Winners Tournament II
Adjective - Scary

Apollo77
Winners Tournament III
Adjective - Quiescent

Crimson Penguin
Winners Tournament IV
Adjective - Burly

Crimson Penguin
Winners Tournament V
Adjective - Spectral

Crimson Penguin​
The Participants
It's simple, if you want to play, just say in the thread you wish to play and I will PM you your 6 Pokemon which you can begin the next round and I will add you to the list of active participants. If you want to be dealt a hand but don't wish to play yet, I will put you in the queued's participants section. Furthermore, if I have noticed an inactivity on your part, you will be queued too.
Click the spoiler for a list of active participants.
Crimson Penguin
Dragalge
kawaiiconcept
KungFuMaster
Monster Guy
Nerdy McNerdface
Nothingjustgo.
octoboy
Tangeh
yumenokage
And click the spoiler for a list of queued participants
Ampharosity
Calvin
Captain Jigglypuff
DiaRubyTandem
DracosWulfgar
fongerman
jginz1
Kalobw13
Max1996
Professor Maple
Sasukat
topher4167
Venyos10
Wind?
Well that's all for now, and I will start the first round in 36 hours or so.
Last edited: