Friendly Neighbourhood SerebiiBot
Pokémon Black 2 & White 2 - CoroCoro Reveal
Serebii.net has just updated with this:
More details can come at any time so keep checking back. Be sure to llike our new
FaceBook Page
.
With the news of Black 2 & White 2, the
Chatroom
has been rife with discussion of the possibilities that are to come while the
WiFi Chatroom
has been a place for people to hunt down the new Dream World Pokémon for trade and to battle other trainers so be sure to visit them. Our
Forums
have also had these discussion and are a bustling trade and competitive section for the games.
Last Update:
05:30 BST
Edit @ 05:30: Meloetta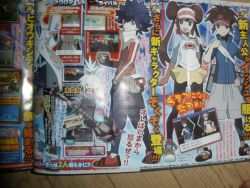 [h=3]In The Games Department[/h] Pokémon Black 2 & White 2
The first images from CoroCoro have started to come. These images showcase the first screenshots of Pokémon Black 2 & White 2 and provide a lot of information. First, the game is set in Unova and shows the new trainers and the rival. The game is set 2 years latr than in BW and features the map of Unova being partially frozen. The Unova Pokédex has 300 Pokémon within it. There are various new areas in Unova including Hiougi City, where you begin your journey. There are other areas which has a gym leader who focuses upon Poison; Homika, who is also said to be in the anime this June. Another gym leader is Shizui, the Water-type leader. The trainer with the spiky hair is the rival and there is a new researcher called Akuroma who researches Pokémon Strength
Hiougi City has a Pokémon Centre and a Trainer School and areas where you can look upon the areas. There are shops, underwater tunnels with clear glass (mantines flowing overhead), building with blue and red statues all around Unova.
That's all the information these scans provide.
It has also been confirmed that Black Kyurem will know the move Freeze Shock and that White Kyurem knows the move Ice Burn.
Within the new Unova Pokédex, which contains a combination of old and new Pokémon, Psyduck is #026, Riolu is #033 and Metagross is #254. We'll bring more should it come later but click the thumbnails for the larger images
******
******"class: fooevo"]Black 2 & White 2*******
******"class: fooevo"]Black 2 & White 2*******
[/TR]
******
******"class: cen"]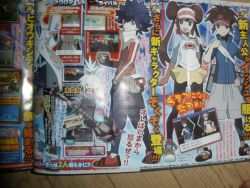 *******
******"class: cen"]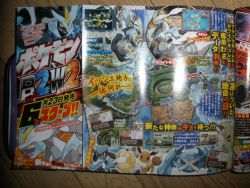 *******
[/TR]
******
******"class: fooevo"]Black 2 & White 2*******
[/TR]
******
******"class: cen"]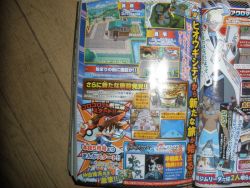 *******
[/TR]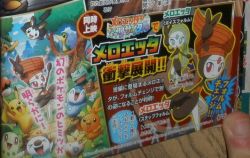 [h=3]In The Games Department[/h] Pokémon Black 2 & White 2
An image also came from the upcoming Pokémon movie: Kyurem & The Sacred Swordsman Keldeo, with a piece about Meloetta's Sparkling Recital. Like the previous reveals, this showcases the Pokémon Meloetta, specifically her Pirouette Forme. No details were given about the distribution of Meloetta and little information was given about the main movie
[SUB]
-- Delivered by Feed43 service
[/SUB]
More...