Friendly Neighbourhood SerebiiBot
Pokémon Black 2 & White 2: Join Avenue
Serebii.net has just updated with this:
This update may be ammended throughout the day. In a slow news slump at the moment, but you never know what is round the corner
With the news of Black 2 & White 2, the
Chatroom
has been rife with discussion of the possibilities that are to come while the
WiFi Chatroom
has been a place for people to hunt down the new Dream World Pokémon for trade and to battle other trainers so be sure to visit them. Our
Forums
have also had these discussion and are a bustling trade and competitive section for the games. Be sure to like our new
FaceBook Page
.
Last Update:
12:04 BST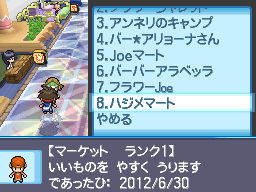 [h=3]In The Games Department[/h] Pokémon Black 2 & White 2
Our coverage is starting to come to a close with the majority of the game fully dealt with. As such, if there is anything about the game that you still wish to see a section about, let me know and I'll get it up as soon as I can. We're still compiling some data such as for Join Avenue and the Dream World so those pages will still be added
As requested, I've made a page about the Join Avenue Fans, and the shops they open
[SUB]
-- Delivered by Feed43 service
[/SUB]
More...