Friendly Neighbourhood SerebiiBot
Pokémon Black 2 & White 2 UK Pikachu Event
Serebii.net has just updated with this:
If you have any ideas for the site in the meantime, let me know. This update shall be amended throughout the day
With the release of Black 2 & White 2, the
Chatroom
has been rife with discussion of the possibilities that are to come while the
WiFi Chatroom
has been a place for people to hunt down the new Dream World Pokémon for trade and to battle other trainers so be sure to visit them. Our
Forums
have also had these discussion and are a bustling trade and competitive section for the games. Be sure to like our
FaceBook Page
.
Last Update:
08:13 GMT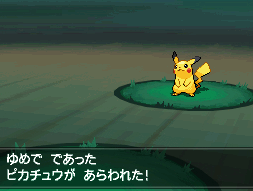 [h=3]In The Games Department[/h] Pokémon Black 2 & White 2 - Global Link Pikachu
For those of you in the United Kingdom, a new Global Link promotion was announced over the weekend. This promotion gives access to the Lightningrod Pikachu. This Pikachu is obtained via one-use serial code obtained in new copies of Pokémon Black Version 2 or White Version 2 purchased via Amazon.co.uk. The serial code will be e-mailed to you. It runs until May 30th 2013. It's currently unknown if this promotion will run similarly across the world
[SUB]
-- Delivered by Feed43 service
[/SUB]
More...