Friendly Neighbourhood SerebiiBot
Pokémon Black & White Keldeo Event
Serebii.net has just updated with this:
If you have any site ideas, let me know during these slow news times. This update may be ammended throughout the day
With the news of Black 2 & White 2, the
Chatroom
has been rife with discussion of the possibilities that are to come while the
WiFi Chatroom
has been a place for people to hunt down the new Dream World Pokémon for trade and to battle other trainers so be sure to visit them. Our
Forums
have also had these discussion and are a bustling trade and competitive section for the games. Be sure to like our new
FaceBook Page
.
Last Update:
13:00 BST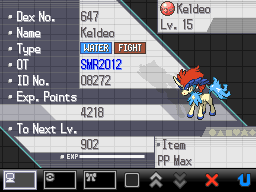 [h=3]In The Games Department[/h] Pokémon Black & White - Keldeo Event
For those of you in America,the Keldeo event is now running in Gamestop stores across the country, or EB Games if you're in Canada. This event gives a Level 15 Keldeo with a PP Max to Pokémon Black & White games. In Black & White, you can teach it Secret Sword if you take Cobalion, Terrakion and Virizion with it to the Moors of Icirrus, but if you wait until Black 2 & White 2 are out and trade it over, you can activate its Resolute Form by teaching this move. The event lasts until October 6th so be sure to get it while you can
As a reminder, this event runs in Europe from September 1st to October 11th, in various stores such as GAME in the UK and various other stores depending on the country. Be sure to check your local store to see if they're participating. In Australia, it runs from September 15th to October 10th in EBGames stores.
[SUB]
-- Delivered by Feed43 service
[/SUB]
More...