And, as if by magic, the webmaster appeared...
Staff member
Admin
Pokémon Emergency! (002)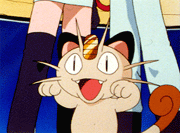 Pokémon Emergency!
With Pikachu Worn out, Ash must get him to the Pokémon Center so he can be healed. But Team Rocket have other ideas and decide to take the Pokémon Center to steal all the Pokémon. Can Ash defend Pikachu?
Visit The Episode Guide
Discuss