And, as if by magic, the webmaster appeared...
Staff member
Admin
Pokémon Fashion Flash (028)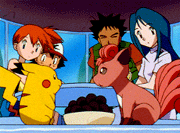 Pokémon Fashion Flash!
When Brock gets to Scissor Street, he sees a Pokemon Breeder called Suzie and her Vulpix are having trouble with their business as Team Rocket have opened up a rival studio. Can Brock help?
Visit The Episode Guide
Discuss