And, as if by magic, the webmaster appeared...
Staff member
Admin
Pokémon! I Choose You (001)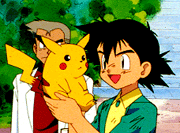 Pokémon! I Choose You!
Ash Ketchum has just turned 10 years old and it is time for him to start his Pokémon Journey. However his Starter Pokémon is a rather disobediant Pikachu. Will Ash be able to Tame this Pikachu?
Visit The Episode Guide
Discuss