Friendly Neighbourhood SerebiiBot
Pokémon - Mewtwo Form - UNCONFIRMED + Dream World Catalogue
Serebii.net has just updated with this:
Pokémon X & Y news, including new Pokémon, is expected next weekend so be sure to keep checking the site for news! f you have any ideas for the site, be sure to send them in
With the news of Pokémon X & Y, the
Chatroom
has been rife with discussion of the amazing showcase and speculation over contents while the
WiFi Chatroom
has been a place for people to hunt down the new Dream World Pokémon for trade and to battle other trainers so be sure to visit them. Our
Forums
have also had these discussion and are a bustling trade and competitive section for the games. Be sure to like our
FaceBook Page
.
Last Update:
08:13 BST
Edit @ 08:13: Dream World Catalogue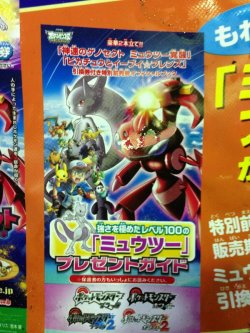 [h=3]In The Games Department[/h] Pokémon - Mewtwo Form - UNCONFIRMED
A new image has gone live through the Japanese message boards and showcase what appears to be a new Mewtwo form. This follows on from various information we have received regarding the movie and CoroCoro promising a special feature in the poster next month.
Currently, there is no confirmation for this, so don't take it as fact yet
, but we'll provide it asap
******
******"class: fooevo"]Pokémon Mewtwo Form*******
[/TR]
******
******"class: cen"]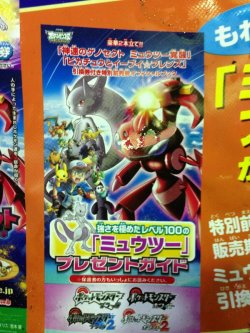 *******
******"class: cen"]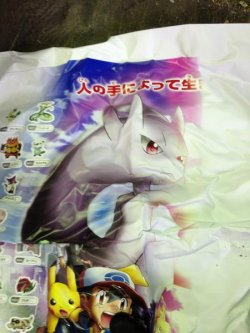 *******
[/TR]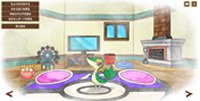 [h=3]In The Games Department[/h] Pokémon Black 2 & White 2 - Japanese Dream World Promotion
For those of you with the Japanese game, the next Dream World promotion is live. This promotion gives the special Hero's Catalogue which provides a variety of furniture including a house based upon the hero's house in Black 2 & White 2. It will run in Japan until May 28th 2013 and requires the password:
ダルマッカ
[SUB]
-- Delivered by Feed43 service
[/SUB]
More...