And, as if by magic, the webmaster appeared...
Staff member
Admin
Pokémon Papparazi! (055)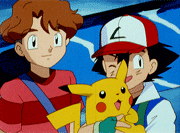 Pokémon Papparazi!
Discovering a Pokémon Cameraman, Todd, is trying to capture a Picture of Pikachu...Ash gets miffed and to make matters worse, Team Rocket want to capture Pikachu. Can Ash save Pikachu from Todd and Team Rocket?
Visit The Episode Guide
Discuss