And, as if by magic, the webmaster appeared...
Staff member
Admin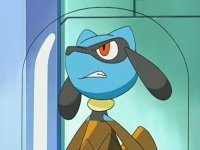 Pokémon Ranger! The Wave-Guiding Riolu! Part Two
Hunter J has managed to take the Riolu. With the Ranger Hajime and their old Ranger friend Solana joining them, Ash & Co. go to hunt down Hunter J and get Riolu back. However, J is far more formidable than anyone could have anticipated and Ash is stuck at the mercy of her Drapion. Will Ash manage to save Riolu and himself?
Visit The Episode Guide
Discuss