And, as if by magic, the webmaster appeared...
Staff member
Admin
Pokémon Shipwreck (016)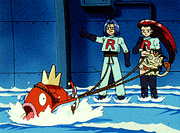 Pokémon Shipwreck!
Stuck on the St Anne after it sank, Ash & Co. must team up with Team Rocket in order to find a way off of the boat and back to shore. Can they put their petty differences aside so they can survive?
Visit The Episode Guide
Discuss