Your Debriefing, Grunt.

Years ago, we were separate teams.
Different regions, different methods and different beliefs kept us apart.
The only thing we had in common was the way in which we each were unexpectedly defeated. Reflection upon our respective downfalls revealed the same key flaw. As time passed, each team had grown overconfident and soft before their defeat.

Now, we are reborn as one.
We have come together with one goal in mind: to pool our knowledge and regain our skills. We are evil at it's finest, once torn apart by our different attitudes and beliefs, we are now a single organization.
We are here to take back what is ours and reign supreme.
We are the Pokemon Crime Syndicate.



That's all you need to know, the rest is classified.



​
​
Rules
​
1. No flaming or insulting other clans. Every opponent deserves respect.

2. Respect other clan members; From Grunt to Captain, we are all on the same side.

3. Win or lose, every battle teaches you something. Learn to win and lose with class, don't be a sore winner or loser.

4. No ragequitting, we don't back down.

5. Since the clan's HQ happens to be on PO, it's recommended you download it

6. Be Active! Two weeks without activity will result in you being thrown into the hiatus tank. In order to rejoin your team and continue fighting, you will need to contact your leader.

7. Follow Serebii's rules at all times. No exceptions.

8. Keep personal feuds out of the forum. Take all disagreements to PMs if you must.

Please note that a warning will be issued when the rules are violated. This is your one and only warning for breaking that rule. Accordingly, any further infractions will result in disciplinary measures.
Code:
Serebii username:
Gender:
PO Name:
Friend Code (and game):
Division  (list all five in order you would like to be placed):
Have you been in a clan before: Yes/No
Battling experience 0 -10:
Timezone:
Anything else we need to know:
Recommended by:

Coins
​
Here in PCS we use a type of currency known as coins. Unlike before where you had to gamble to earn these precious gifts, we have evolved to a new system. Now you earn coins through a number of activities. Coins can be spent at our personal Underground Market. At the Underground Market, you can trade in your coins for powerful items and pokemon to help reign supreme.
- Participating in a clan war - 15 Coins

- Winning a Clan War Battle - 10 Coins

- Battling against someone and winning (In Clan Only) - 5 Coins

- Battling against someone and losing (In Clan Only - 2 Coin

- Participating in an In-Forum Event - 5 Coins

- Donating Something to the Underground Market - Depends on what it is (Ask Glitch)

- Rank Up - 5 Coins

- 1st in a Clan Tourny - 10 Coins

- 2nd in a Clan Tourny - 5 Coins

- Making something for someone in the clan (art) - 5 to 15 Coins

- 5 Coins for a writer that finishes a chapter (PM Tehero showing him it)


​

To receive your Coins for battling, please post the following form on the thread and get the battle approved by the other person. Once your team leader sees the post, they will add the Coin amount to your current amount. You are in charge of letting your leader know when you have enough points to rank up, either by PM or VM. They will confirm it, add you to the next rank, and hopefully send a PM back
Code:
Who you battled:
Win or Lose:
Why did you battle: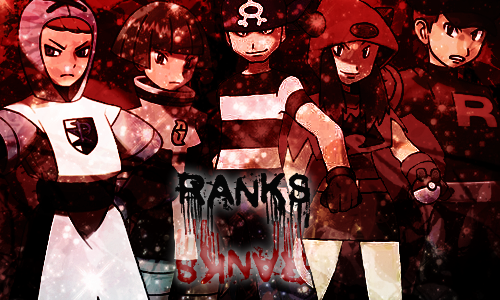 Ranks/Ranking Up
​

Here in PCS, each Team has it's own ladder of ranks. Your title will be decided according to which Team you belong to. To see your Team's Ranks, go to your Team's Post. (Duh) In PCS, all Teams rank up in the same fashion. In order to rank up, you need to have a certain amount of coins. The total required is dependent on the rank you aspire to belong to. Please note:YOU DON'T LOSE YOUR CURRENT COIN TOTAL UPON RANKING UP. (as in you don't need to trade coins for the rank up) If you go below your current rank's coin amount from spending at the Underground Market, YOU MAINTAIN YOUR CURRENT RANK. Think long and hard about what you'd like to spend them on...
Starting Rank - You start here. Welcome to the clan, Grunt.
First Rank Up - 50 Coins
Second Rank Up - 100 Coins
Third Rank Up - 150 Coins
Fourth Rank Up - 200 Coins
Fifth Rank Up - 300 Coins
Sixth Rank Up - 400 Coins
Seventh Rank Up - 500 Coins
- The Roaming Legendaries

The Legendary pokemon that roam our regions can be difficult to track down, and even harder to catch. Here in PCS, we reward members with the skills to spot and react quickly to such elusive sightings. Each month, a different roaming Legendary pokemon will be chosen to make rare appearances within the forum. Be the first to quote zombie_glitch's original post containing the Legendary of the month to earn coins, and perhaps something more...

Rules
1. Roaming Legendaries will only be valid if posted by zombie_glitch.
2. Any dispute over who quoted the original post first will be handled by zombie_glitch.
3. Any other member using the Legendary post will be banned from future RL events.

Roaming Legendary Of The Month: Tornadus
Xat
The xat is where we hang out and just have fun. To access it, look in my sig. If you want a button for your own sig that represents your team, let me know. (We have one made for each team)

Index
​

Post One


- Intro

- Rules

- Sign Up

- Announcements

- Coins

- How to earn coins

- About Coins

- Ranks/Ranking Up

- Rank Coin Amount

- In-Forum Event

- Xat


Post Two - Team Rocket
Post Three - Team Magma
Post Four - Team Aqua
Post Five - Team Galactic
Post Six - Team Plasma
Post Seven - War Team
Post Eight - Current Tournament
Post Nine - Underground Market
Post Ten - Art Shop

Credits​
Content:
All content created by Tehero, aggiegwyn, thatjeremykid, Cooloolcool, zombie_glitch and #chelloressurection.
Images:
Big thanks to Wolf Prince for all the userbars; Bruktaka for the Rocket image; #chelloressurection for our main image and our sig buttons; Aggie for Team Aqua's, Team Plasmas, and Team Magma's main image, plus the Coin banner, Rank banner, and Rules banner; and Mew_ for the Team Galactic banner.
Last edited: