And, as if by magic, the webmaster appeared...
Staff member
Admin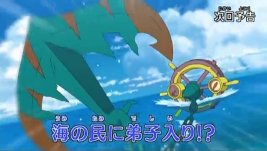 Popplio, Brionne and the An-chor-gry Dhelmise!
Despite her recently obtained Z-Ring and Waterium Z, Lana is still having difficulty mastering Z-Moves. However, she soon meets a trainer with Popplio's evolution, Brionne, who has mastered the Water Z Move. Lana asks for their help and learns that they are around hunting for sunken treasure, and they start training together. When they receive information about the treasure, they learn it is protected by a Dhelmise. Will they be able to obtain it and master the Z-Move?
Visit The Episode Guide
Discuss