And, as if by magic, the webmaster appeared...
Staff member
Admin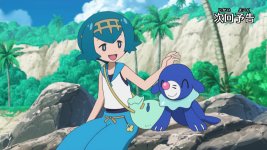 Popplio, Do Your Balloonest!
The Pokémon School is holding a special Fishing competition from the top of Poké Ride Pokémon, with Lana teaching how it is done. As Ash lacks a fishing rod, Lana and he head to her house to pick one up for him to borrow. Bonding, they soon become better friends but when time comes for the fishing competition, a mysterious shadow appears with its eyes set on the Water-type Pokémon...
Visit The Episode Guide
Discuss