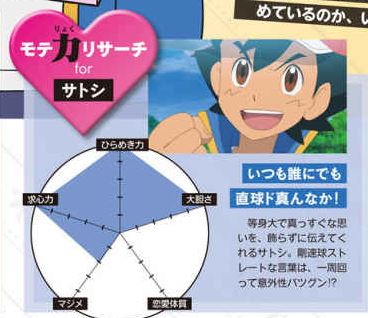 "Popularity research for Satoshi Always straight to the point with anyone! Satoshi speaks his mind in a true-to-life and straightforward way, without pretention. His fastball straight words come full circle outstandingly!?
Chart:
Insight: 5
Boldness: 5
Predisposition for love: 0
Seriousness: 2
Magnetism: 5"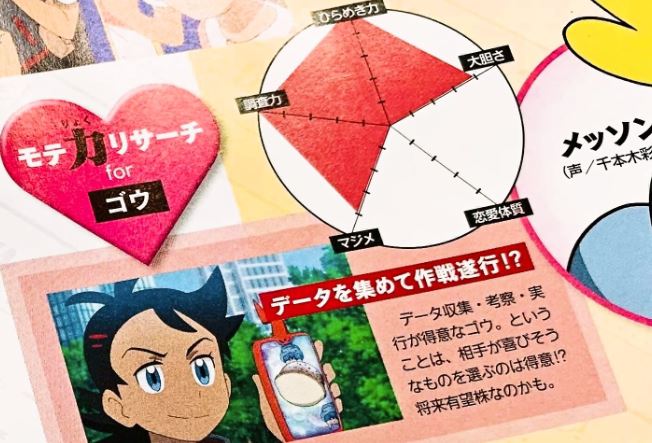 "Popularity research for Gou Gathering data and carrying out a strategy!? Gou specializes in data gathering, investigation and execution. So this means that he's good at picking something that will make his partner happy!? We expect a lot from him in the future.
Chart:
Insight: 5
Boldness: 4
Predisposition for love: 0
Seriousness: 4
Investigation skills: 5"
I would like to do something 100% similar to this with pretty much every other main character in the anime (Misty, Brock, The Team Rocket trio (Jessie, James and Meowth) May, Max, Dawn, Iris, Serena, Clemont, Bonnie, Lana, Kiawe, Lillie, Sophocles, Mallow and Koharu (source varies)), but I'm kinda not good at figuring out those things. I also realized that the template is the following:
Insight:
Boldness:
Predisposition for love:
Seriousness:
Character's Main Trait:
So if you'd give a number to each of the above and recall their main trait, what number would they be from 0 to 5?
For reference, the two images above is from a magazine issue released on January last month, but I don't remember what magazine it is.
All I know is the "predisposition for love" part for all the past main characters, the TRio and Koharu would also be 0, but I might be wrong.
Last edited: