And, as if by magic, the webmaster appeared...
Staff member
Admin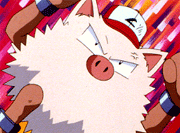 Primeape Goes Bananas!
When a Wild Mankey steals Ash's hat, Ash gets angry. He decides to try his hardest to get the hat back...but things get worse when the Mankey evolves into a Primeape, Ash must face a prospect he doesnt like. Can he get his hat back or will he have to go around hatless?
Visit The Episode Guide
Discuss