Yes i know i'm not allowed to post fangames. so listen closely. I'M Not! these are JUST the sprites. which are mixes of official pokemon.
Anyway I'm posting them here, so you wonderful ppl can help me. Feel free the let me know what you think of them, how i can improve them, and my biggest problem Name Them!
Credit will be given if you provide a name. I appreciate it that much.
I guess you could also suggest a mix but lets not make a habit of it. more just b/c this is a display thread, not a request thread. if it gets popular enough i'll make the request thread.
Anyway here are the first ones i have, it's my water starter and it's evolutions. I'm really happy with the first one but the other two i'm not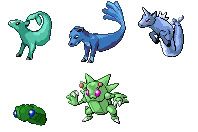 More to come Soon!
Last edited by a moderator: