And, as if by magic, the webmaster appeared...
Staff member
Admin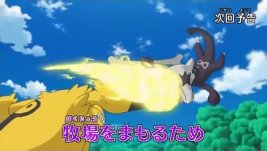 Protect the Farm! The Blue Flame Strikes Back!!
A strange man has appeared at Kiawe's family's farm stating he wants to buy it so he can build a new resort on the island. When they decline, the man starts harassing the family to try and take the farm against their will. Kiawe is angered and challenges the man to a battl but when he loses after Marowak fails with its Z-Move, things get rough. Will Kiawe be able to protect the farm?
Visit The Episode Guide
Discuss