Hi all, this is my first competitive team that I have ever made. With help of course from the wonderful members of the Triumvirate. I'm new to competitve battling, so please be kind. Also, keep in mind that this team was hastily made in an hour. Thanks so much, and here's the team:
Gliscor (F) @ Toxic Orb
Trait: Poison Heal
EVs: 252 Atk / 252 Spd
Adamant Nature (+Atk, -SAtk)
- Aerial Ace
- Earthquake
- Rock Slide
- Swords Dance
I put gliscor in because he's a nice sweeper and he has good defenses. Plus his ability combo with toxic orb is nice. I just was going to build the team around him.
Lapras (F) @ Leftovers
Trait: Hydration
EVs: 252 HP / 4 Atk / 252 SDef
Careful Nature (+SDef, -SAtk)
- Ice Shard
- Rest
- Waterfall
- Curse
I put lapras in because she compliments gliscor by covering the ice type weakness. Also, I wanted a nice defensive pokemon on the team.
Dragonite (F) @ Leftovers
Trait: Multiscale
EVs: 252 HP / 252 SAtk / 4 Spd
Modest Nature (+SAtk, -Atk)
- Hurricane
- Thunder
- Brick Break
- Roost
I wanted a dragon type because of it's few weaknesses. I now realize that this makes my team susceptible to ice type attacks
Celebi @ Life Orb
Trait: Natural Cure
EVs: 220 HP / 252 SAtk / 36 Spd
Modest Nature (+SAtk, -Atk)
- Giga Drain
- Nasty Plot
- Recover
- Earth Power
I wanted a nice combo with celebi and I wanted it's type coverage. It's got recover and life orb, which is the combo I was aiming for.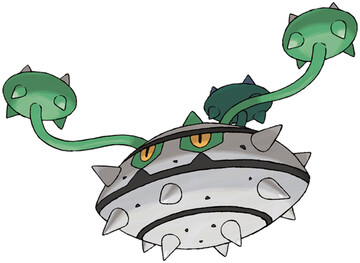 Ferrothorn (F) @ Leftovers
Trait: Iron Barbs
EVs: 252 HP / 48 Def / 208 SDef
Relaxed Nature (+Def, -Spd)
- Protect
- Power Whip
- Leech Seed
- Thunder Wave
I needed ferro because I needed some more bulk on the team. Ferro fits this job nicely.
Politoed (F) @ Choice Specs
Trait: Drizzle
EVs: 252 SAtk / 4 SDef / 252 Spd
Timid Nature (+Spd, -Atk)
- Surf
- Ice Beam
- Focus Blast
- Hidden Power [Electric]
I wanted politoed to compliment lapras and also it gives nice type coverage.
If I need to change moves, natures, items, or even the Pokemon itself, just post it below. Thanks!
-Ballistic Buizel
Last edited: