Friendly Neighbourhood SerebiiBot
Serebii.net has just updated with this:
It begins once more. Have had great feedback about the new look Pokédex, AttackDex & AbilityDex. Many other aspects of the site will soon be converted to match this new style. Since the new Black & White details have been out, such as the starters, the
Chatroom
&
WiFi Chatroom
have been booming with discussion & trade respectively so be sure to visit them.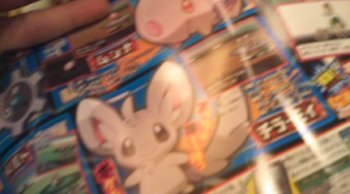 In The Games Department
Pokémon Black & White - CoroCoro July Issue
The first bits of this month's issue of the Japanese publication CoroCoro have leaked on various Japanese forums. As usual, we're getting it gradually so please bare with us. There is lots of rumoured information but we need to wait and see. Keep checking back. As of now, the image we have is too blurry to tell what's said, or even if it's real so it
may not be confirmed as real
. We'll bring anymore as and when it comes
-- Delivered by Feed43 service
More...