Friendly Neighbourhood SerebiiBot
Serebii.net Update: New Pokémon Game? + Japanese Cover Pokémon Event + US & Japanese
Serebii.net has just updated with this:
If you have any ideas for the site during the news lull, don't hesitate to send them in
With the first summer since the release of Generation V close to ending, the
Chatroom
&
WiFi Chatroom
have been a major hub for discussion & trade respectively so be sure to visit them. Our
Forums
have also been fixed of all problems and have a bustling trade and competitive section for the games.
Last Update:
11:44 BST
Edit @ 08:37; Gliscor Password | Edit @ 09:08; New Pokémon Game? | Edit @ 11:44; Emboar Japanese Password
In The Games Department
New Pokémon Game? - Unconfirmed
According to various reports, notably from David Gibson who attended it, during Nintendo's Financial Results Briefing today, a new Pokémon game was listed for release in Japan this Spring. No details were revealed about this game, as to whether it's a spin-off game or a main series gamebut we'll bring details about this game, including confirmation as it's not listed in the details on the official site, as soon as possible.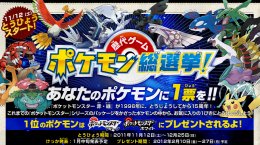 In The Games Department
Pokémon Black & White - Japanese Promotion
Japan is starting to run a promotion for the new giveaway. This promotion is to have players vote for the Pokémon they desire to be distributed during a special event next February. The Pokémon that are included within this poll are all the cover Pokémon from every game in the last 15 years; Charizard, Venusaur, Blastoise, Pikachu, Lugia, Ho-Oh, Suicune, Groudon, Kyogre, Rayquaza, Dialga, Palkia, Giratina, Reshiram and Zekrom. Voting lasts from November 12th to December 25th while the giveaway lasts February 10th 2012 to February 27th 2012. We'll bring more details including how and where to vote, as soon as possible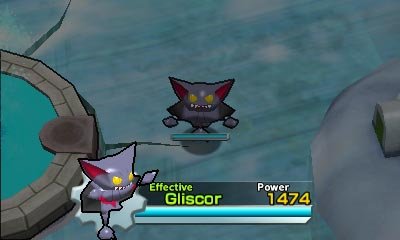 In The Games Department
Pokémon Rumble Blast - Passwords
Another new password has been revealed for the US version of Pokémon Rumble Blast. This password, given in the Nintendo Channel, gives access to a special Gliscor. This Gliscor has the trait; Effective which increases damage from a Super Effective move, is around 1400 in strength and knows the Bug-type move; X-Scissor. The password is;
9625-7845
Edit
: In addition to this, a new Japanese one has been released by the Daisuki Club. This password is for an Emboar with Fire Boost +. It has Heat Crash and is around 2100 in strength. Its password is;
8902-7356
-- Delivered by Feed43 service
More...