Friendly Neighbourhood SerebiiBot
Serebii.net Update: New Pokémon Game To Be Announced + Episode Title + TCG Promos
Serebii.net has just updated with this:
Was going to post this last night, but the wording gave me pause. Keep sending your ideas in, they're quite helpful. Will have the Typing DS coverage soon. I apologise for the delay
This update may be updated throughout the day. With Pokémon Black & White now coming in the rest of the world, the
Chatroom
&
WiFi Chatroom
have been a major hub for discussion & trade respectively so be sure to visit them. Our
Forums
have also been fixed of all problems and have a bustling trade and competitive section for the games.
Last Update:
16:33 BST
Edit @ 11:20; Episode Title | Edit @ 16:33; TCG Promos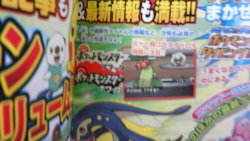 In The Games Department
New Pokémon Game Announcement Soon
With thanks to
ShellSpider
for the image, the latest issue of the Dengeki Nintendo magazine in Japan has stated that next month, in their issue due for release on May 21st, they were reveal details and name for a new Pokémon game. No details are known about this game at all at the moment, whether it's a spin-off or not. However, as we noted in January, Satoru Iwata confirmed that 3DS and Wii Pokémon games are in development. It's likely that we'll see details in CoroCoro prior to ths so we may know mid-month. We'll bring information about this as and when it comes

In The TCG Department
Pokémon Black & White - English TCG Promos
To tie in with the upcoming release of Pokémon Black & White's TCG set, several promotional cards were released. These cards continue the new BW Promoset and thanks to SkittyOnWailord, we have scans of them. As such, I have added them to the database. I have updated the
CardDex
with the cards from these sets. Click the image to go to our Promo page
In The Anime Department
Japanese Episode Title
Another new episode title has been revealed by the Monthly TV Guide for an episode airing this May. Few details are known about this episode at the moment. It is scheduled to air on May 26th
Episode 695: The Dragon Buster Appears! Iris & Excadrill!!
-- Delivered by Feed43 service
More...