Friendly Neighbourhood SerebiiBot
Serebii.net Update: Pokémon Upcoming Games + European Banette Giveaway + Episode Pict
Serebii.net has just updated with this:
CoroCoro is due any day now and may provide some news so this update shall be ammended throughout the day. If you have any ideas for the site during the news lull, don't hesitate to send them in
With the first summer since the release of Generation V close to ending, the
Chatroom
&
WiFi Chatroom
have been a major hub for discussion & trade respectively so be sure to visit them. Our
Forums
have also been fixed of all problems and have a bustling trade and competitive section for the games.
Last Update:
14:12 BST
Edit @ 09:30; Global Link Banette | Edit @ 12:46; Banette UK Password | Edit @ 14:12; Episode Pictures
In The Games Department
Pokémon - Upcoming Games
Some news spreading round is regarding some comments on Junichi Masuda's
Twitter Account
. When asked about making remakes of the GBA games Ruby & Sapphire, he responded by saying that the original games were important to him and thanked the user for his input, not that he'll "consider" it as spreading around the internet. While this isn't an indicator of Ruby & Sapphire remakes actually coming out, anything is possible. We'll bring more news about upcoming games as and when they come so keep checking back
In The Games Department
Pokémon Black & White - European Banette Giveaway
For those of you with the European games, Banette is to be given away over the Pokémon Global Link. This Banette is a Level 37 Female Banette with the special move Cotton Guard and its ability; Cursed Body. This promotion runs from yesterday until December 7th 2011 and will be given via a variety of passwords released on various websites across the internet for each region in Europe. When the passwords are known, they will be posted here. The passwords are different for each region.
The United Kingdom and rest of Europe password is;
BANETYahooGames
The Spanish password is;
BANET3DJuegos
The Italian password is;
BANETSpazioGames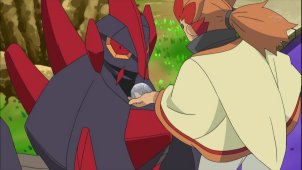 In The Animé Department
Pokémon Black & White - Episode Pictures
As usual, I have done pictures from the episode that aired in Japan today. This episode features Ash and Trip meeting up with the Champion of the Unova region; Alder. The
AniméDex
has been updated with the vast contents of this
episode
. Click the picture to go to the gallery but be warned however as they contain spoilers;
-- Delivered by Feed43 service
More...