Friendly Neighbourhood SerebiiBot
Serebii.net Update: PokéWalker Event Course Event Pikachu Coloured Pichu Event Confi
Serebii.net has just updated with this:
Expect CoroCoro details any day now. Keep checking back. Since Heart Gold & Soul Silver have been released, the
Chatroom
&
WiFi Chatroom
have been booming with discussion & trade respectively so be sure to visit them.
Edit @ 22:45; Pikachu Coloured Pichu confirmed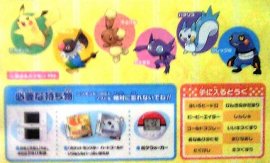 In The Games Department
Pokémon HeartGold & SoulSilver - PokéWalker Event - Event
With thanks to a
Japanese Blog
, we have details that the PokéWalker Course;
Event
is scheduled to be given away in Japan from January 29th to February 28th in the Pokémon Centres around Japan. Like the Shopping Course, it is not currently known if it will arrive on WiFi like Champ Path did. This course features a variety of Pokémon including Sableye and Croagunk and has rare items like the Yellow Flute in it. Click the picture to go to our PokéWalker Course "Event" subsection.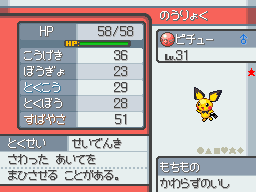 <div class="subcat" >
In The Games Department
Pokémon HeartGold & SoulSilver - Pikachu Coloured Pichu US Event Confirmed
Confirming the post I made yesterday, the official site has today updated stating that the Pikachu Coloured Pichu is to be given away at Gamestop stores across America from
January 30th 2010 to February 14th 2010
. This Pichu can be downloaded to Diamond, Pearl and Platinum. Just take your DS and the game to the store and you can download it. As mentioned before, this Pichu is a Shiny Pichu and gives you access to the Spiky-eared Pichu in HeartGold/SoulSilver. I can also confirm to you now that the Jirachi event I mentioned yesterday will also be given at Gamestop. Click the picture for further details
-- Delivered by Feed43 service
More...