Sign Ups l
Week 1
l
Week 2
l
Week 3
l Week 4 l Week 5 l Semi Finals l Finals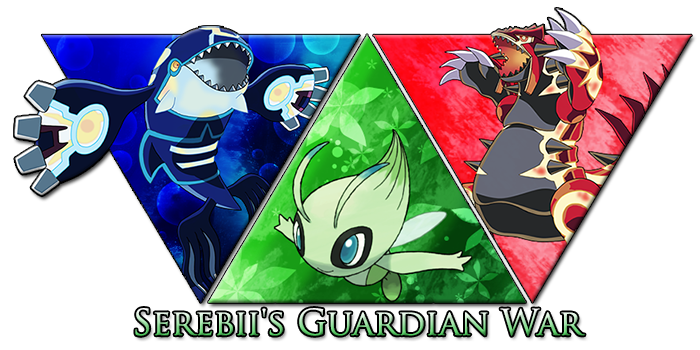 *Credits to FairyWitch*
Welcome to the newest official tournament Serebii's Guardian War! In this tournament guilds will be put head to head against each other to see who is the best guild around! However those of you not able to fight on your guilds behalf dont fear because there is a Mercenary option for those of you whom do not have a team!​
Rules:
Standard SM OU ban list and clauses apply.
All matches must be completed by the deadline
All matches must be completed on Pokemon showdown.
Matches MUST be competed using the showdown tags provided in this post for each player
Only 3/5 Players will be battling each week
Scheduling:
You are expected to respond to your opponents promptly.
Visitor/profile messages must be used for scheduling.
When sending the initial message, offer time frames that work for you and preferably mention your time zone. If no times work and all possible options have been exhausted, contact me immediately.
Schedule a specific time and date.
If your opponent isn't there at the scheduled time, try to wait at least ~30 minutes.
Use this thread to keep me updated on how the scheduling is going.
Sitting on discord will not count as being active.
Tournament Details:
This is a two stage tournament; Stage 1 will be a round robin which will take between 3 and 5 weeks dependant on how many teams we receive, the 2nd stage will be a seeded top 4 bracket which will last 2 weeks, in this portion all 5 members will be fighting each week.
Guilds and their Line Ups:
Veneno Oscuridad
Aquablast
[aquablast064]
MetalSonic
[ANIME NEVER]
Conquer Phoenix
[Conquer Phoenix]
Lugia-sama
[Bury Tow]
Rocxidi
[tef is free]
The Battle Corperation
725Roy
[Vo1tage]
MMS
[MeanMrSnorlax]
Twinyoshi45
[Twinyoshi45]
Ger9119
[SerebiiGer]
BigKCBK
[Rockium Zilla]
The Eternian Forces Guild
Mcdanger
[Mcdanger]
M.Oreo
[Reincarnated soul]
SilverLanayru
[SilverLanayru]
Saph~
[Saph]
Archstaraptor
[Archstarptor]
Steel For Hire
Cosmic Fury
[Cosmic Fury]
Naoto Shirogane
[naoto war]
golem12
[Rayquaza The First]
00swms
[Our Morning Star]
Archangel
[PathfinderN7]
The Mercenaries
Dew
[i'm grubbin it]
ptz
[ptz]
Zold
[ZoldPGL]
DJsummers
[The Great Ghost]
Chess-Z
[blood crescent]
The Mercenarys:
Since not everyone has a chance to set up for their guild we are giving everyone the chance to sign up as an individual, then we will randomly create up to 3 teams of 5 to participate against the guilds, first come first serve in the event you dont get onto a mercenary team we will keep you as a sub in the event someone drops out of the tournament!
HTML:
[B]Mercenary Sign Up:[/B]
Username:
PS Username:
Substitutes:
Eliteknight [Guardian Of Auir]
Round 1:
The Eternian Forces Guild Vs The Mercenaries
[0] SilverLanayru Vs Zold [2]
[2] M.Oreo Vs Dew [0]
[2] Mcdanger Vs ptz[/s] [0]

Veneno Oscuridad Vs Steel For Hire
[2] Conquer Phoenix Vs Naoto Shirogane [1]
55afrothunder Vs golem12
[2] MetalSonic Vs Cosmic Fury [0]
Round 2
The Mercenaries
Vs
Veneno Oscuridad
[0]
Ptz
V
Metalsonic
[2]
[2]
Zold
V
Conquer Pheonix
[0]
[1]
DjSummers
V
Lugia Sama
[2]
The Battle Corporation
Vs
The Eternian Forces Guild
[0]
725Roy
Vs
M.Oreo
[2]
[0]
MMS
Vs
Saph~
[2]
[1]
Twinyoshi45
Vs
SilverLanayru
[2]
Round 3
Veneno Oscuridad
Vs
The Battle Corporation
Conquer Pheonix Vs MMS
Lugia-Sama Vs Ger9119
[2]
Rocxidi
Vs
Twinyoshi45
[0]
Steel For Hire
Vs
The Mercenaries
Naoto Shirogane Vs Zold
[0]
Golem12
Vs
DJsummers
[2]
[2]
00swms
Vs
Chess-Z
[0]
Round 4
The Battle Corporation
Vs
Steel for Hire
Twinyoshi45 Vs golem12
[2]
Ger9119
Vs
Archangel
[1]
BigKCBK Vs 00swms
The Eterian Forces Guild
Vs
Veneno Oscuridad
[1]
SilverLanayru
Vs
Lugia-Sama
[2]
[1]
Saph~
Vs
Rocxidi
[2]
Archstaraptor Vs Aquablast
Round 5
Steel for Hire Vs The Eternian Forces Guild
[0]
00swms
Vs
Saph~
[1]
[2]
Archange
l Vs
Archstarptor
[0]
Cosmic Fury Vs Mcdanger
The Mercenaries Vs The Battle Corporation
Dew Vs Ger9119
[2]
DjSummers
Vs
BigKCBK
[1]
Chess-Z Vs 725Roy
​
Reporting Battles:
HTML:
[B]Opponents Username:[/B]
[B]Game 1: W/D/L ; Score[/B]
[B]Game 2: W/D/L ; Score[/B]
[B]Game 3: W/D/L ; Score[/B]
[B]Notes:[/B]
Tournament Schedule:
Deadline:
Sign Ups: Saturday July 22nd @10pm Pacific
Round 1: Sunday July 30th @10pm Pacific
Round 2: Sunday August 6th @10pm Pacific [Extended to Aug 20th]
Round 3: Sunday August 13th @10pm pacific [Extended to Aug 20th]
Round 4: Sunday August 20th @10pm Pacific
Round 5: Sunday August 27th @10pm Pacific
Last edited: