Welcome to my Fakemon thread
Recently, after having my immense love of Pokemon rekindled playing White 2, I started coming up with my own ideas for Pokemon that I'd like to see. I then took this further and drew several of these ideas out on paper, with varying degrees of success.
Having built up a decent backlog of designs, I decided it was about time I shared them with people.
So, here are some of the designs I'm most proud of. I will likely continue to update as I draw more creatures and, assuming I feel like that'd be the right thing to do, edit some of the older ones and improve on their designs.
I hope you enjoy looking at these designs as much as I enjoyed creating them
1. Miasmos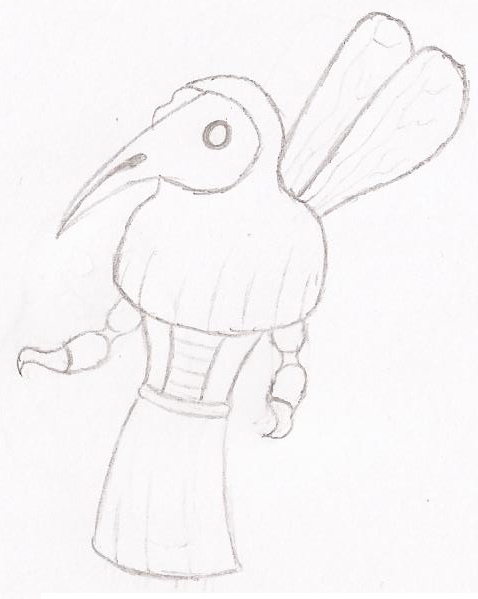 This is the first Fakemon I ever drew, Miasmos. Having seen some images of Plague Doctor's masks on the internet, I started to think about how to incorporate it into a Pokemon. A humanoid was an obvious choice but I felt like I could do better. Birds also came to mind with the beak like mouth, but I couldn't think of to incorporate other aspects into something like that.
Eventually I decided on a Mosquito. I felt that basing the design in a blood-sucking insect would be a good design choice, seeing as the plague was spread by another blood-sucker, the Flea. Thus, I created this Pokemon, and I was pretty proud of the results.
It's typing would be Bug/Dark, and it would likely be part of a 3-stage line, likely starting with a Flea-like base form (I may get around to drawing other evolutionary stages later).
The name Miasmos comes from Miasma, which was once thought to have been the cause of the Black Death and the whole reason that doctors wore their beaky masks, and Mosquito, which the other half of the design is based around.
2. Snocerer
Old Design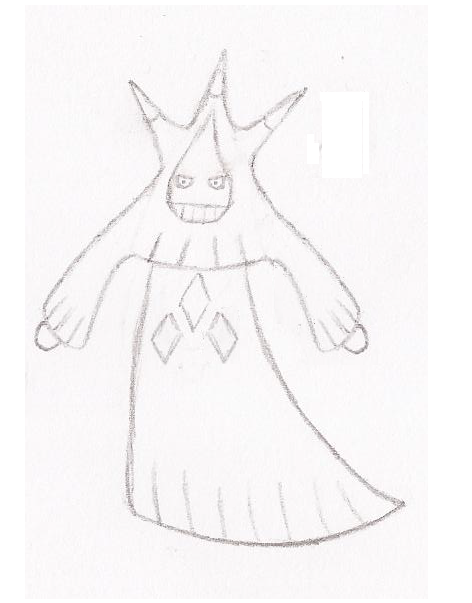 New Design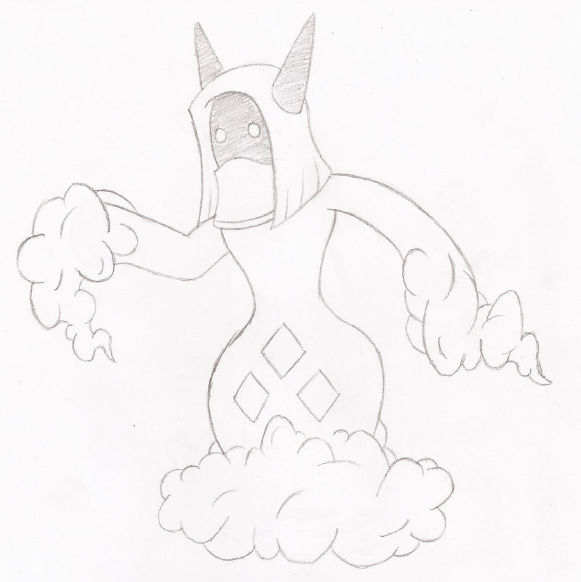 I really like Snorunt. I find it's design very charming, and it has a lot of personality.
Then it evolves into some big snowball Oni that is essentially a floating head. What the heck? What happened to my adorable little hat fella?
Then Frosslass comes along, and it's cool, it's got a sweet design and a sweet typing, but it's a female-only Pokemon. Why don't the male Snorunt get a nice evolution too?
I know some people probably like Glalie's design, but to me the Snorunt family still felt unfinished, so I came up with Snocerer, an evolution for Glalie.
I wanted something that was basically a bigger, better Snorunt, and that's what I ended up with. It's pretty similar, mainly because it was difficult to work Snorunt's design into something different but with the same charm. I think I pulled it off.
Snocerer would come around after exposing Glalie to some new evolutionary method. The idea I had was that Snorunt eventually formed a defensive ball of ice around itself as a Glalie in order to remain safe, and while inside this ball, was able to master it's dormant psychic abilities. Thus, upon evolution, we get Snocerer, and Ice/Psychic-Type (Or, possibly, if the supposed Fairy-Type exists, and Ice/Fairy-Type).
It's difficult trying to come up with an evolution for an old Pokemon, as you're trying to keep the parts that people liked about the original and build on it. Let me know how I did
The name comes from Snow, which is also part of Snorunt's name, and Sorcerer, referring to Snocerer's Ice/Psychic typing.
This is now the first Fakemon here to receive a redesign. One of the biggest changes is the snow billowing out from beneath the cloak, which is something I very much like the look of.
3. Voodon (Name suggested by NightKrazy)
Old Design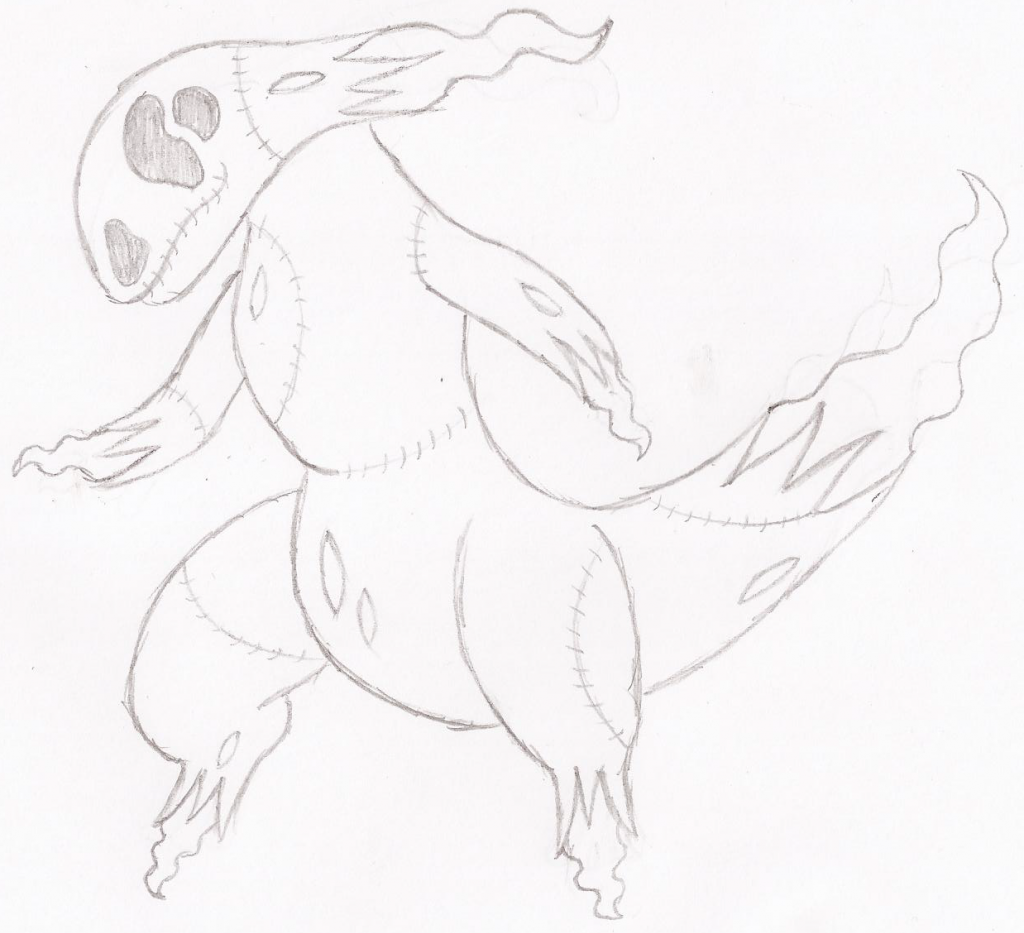 New Design
This design came around when I was thinking about what kind of interesting typings could be combined with the Dragon-type (I realise Ghost has been paired with it before, but I'm not going to count legendaries in all of this). Ghost was one of the few that hasn't been done to death by Fakemon artists in the past, so I thought I'd give it a go.
Of the art that did already exist of Ghost/Dragon-Types, they mainly seemed to almost exclusively incorporate skeletons into the design, which I found got old quickly. Instead, I opted for the hugely cliche sheet ghost, and combined it with a theropod dinosaur. Genius.
I wanted to mix the design up a bit though, so rather than simply making it look like a T-Rex with a sheet draped over it, I gave the head holes reminiscent of a dinosaur's skull, added stitches all over it's body, and several tears and holes in the sheet which the Pokemon is able to leak out of, forming arms, legs, and... hair?
I'm pretty proud of this design, but I feel like I could've done better with the legs and hands.
This is now the second design here to be remastered. I felt like just a generic dinosaur didn't really do the design justice, so I thought about what kind of creatures came to mind when I thought of Voodoo. Of course, it couldn't be anything else but an Alligator, so I incorporated it into the design.
I also thought there wasn't really a lot to the design to suggest a Voodoo theme apart from the stitches, so I added some pin-like spikes protruding from the back. The rips and tears remain the same as they were, as do the stitches.
I hope you guys like the redesign!
4. Melicious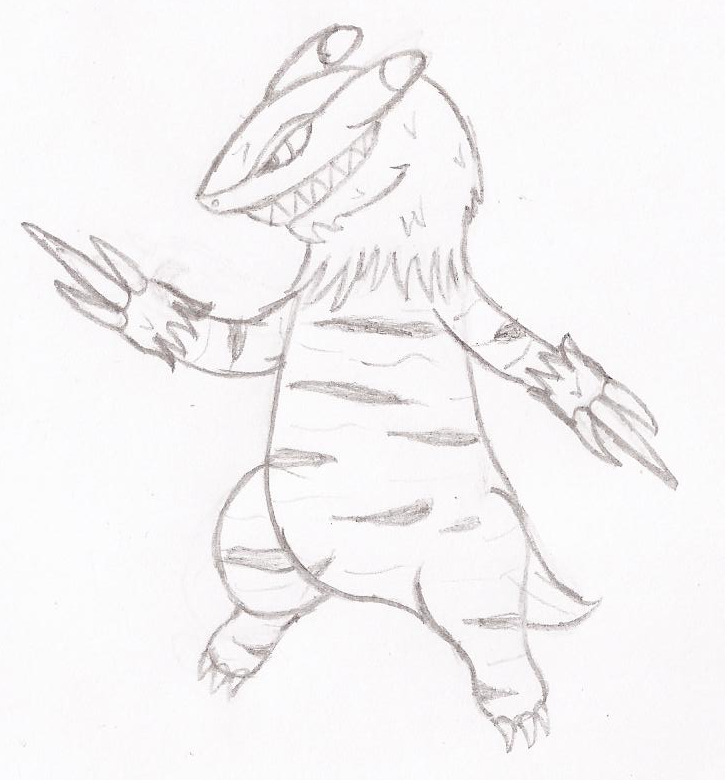 I feel like the Pokemon franchise was lacking Badgers. You heard me.
Badgers are awesome, and the fact that we haven't seen a Badger Pokemon yet scares me. You can do a lot with the concept.
For this, I decided on a Grass/Dark-Type, hence the evil grin.
Beyond this, I struggled to think of ways to represent it's typing. I didn't want to just make the fur green in some places as that's not very creative.
Instead, I decided to give it aspects of a Silver Birch. The main body with the black patches on it would be a silvery-grey, with the fur around the head and hands being a bright green. The area around the yes would be black.
I felt this would be an unexpected way to represent the Grass-type of the Pokemon. I've never heard of anyone else incorporating Birch trees into a design before.
The name is derived from "Meles Meles", the scientific name for the European Badger, and "Meles" being the genus for Badgers in general, and Malicious, which means to be deliberately harmful.
5. Beeyefefel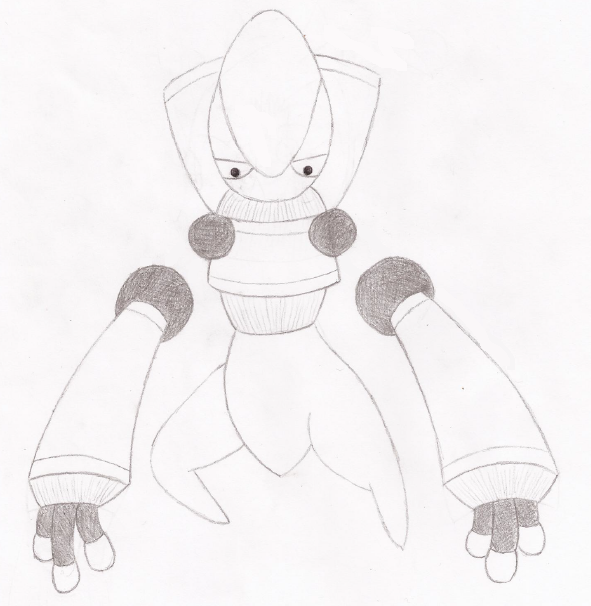 Beheeyem seems a bit neglected to me. It's a pretty basic Psychic-Type, the only things setting it apart from most others being it's Double and Triple battle oriented movepool.
Now, being that it's an alien, there are a lot of opportunities for creativity when designing an evolution for such a Pokemon. This design started out very differently, but eventually it turned into what it is now.
The idea here is that, when Beheeyem reaches a certain level with high friendship, it sheds it's odd trenchcoat and hat disguise thing it had going on and reveals itself fully. This is to show that it trusts it's trainer a lot.
I really didn't want to keep this as a pure Psychic-type, so it's now Psychic/Electric-Type, making up for the fact that it's pretty much the same as all the other Psychic-types. However, with this, it became more difficult to represent it's typing in it's design. I think I managed it though.
It's fingers, which were previously 3 multi-coloured disks on it's arms (Which really put me off of Beheeyem's design for some reason, it looked kind of mismatched), are now all a single colour, electric blue, and they're meant to look like electrical wires, with plug-like finger tips.
The arms are detached from the body because I wanted to have the orbs at the shoulders and the orbs at the end of the arms connected with electricity, but it was very hard to portray it well in pencil. Just imagine that there's a constant stream of blue lightning connecting the arms to the body.
The collar around it's neck is sort of built off of the one Beheeyem had, except more regal looking. I thought this fit with the fact that it's the final evolution.
The name comes from the abbreviation of Best Friend For Life (BFFL) and would be pronounced as such. This is alluding to the fact that it evolves through friendship.
6. Grass/Electric Whimsicott Evolution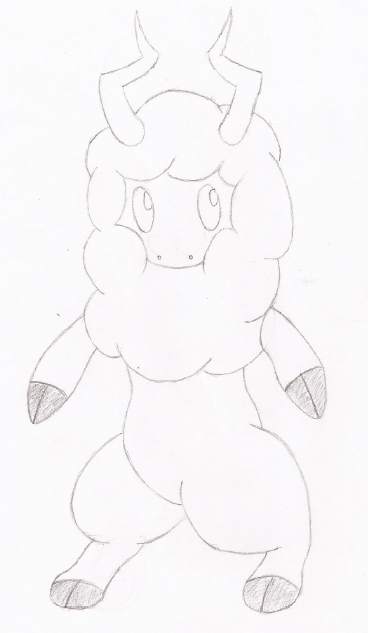 Whimsicott is a cool Pokemon as it is. It's pretty simplistic, which is nice, and it fills a niche. However, I feel like an evolution would be nice for it.
This idea came to me when I was thinking about how a Grass/Electric-Type could be added into the game (Forgetting Mow Rotom as it's a form change). A sheep made perfect sense to me, and as Whimsicott is a Grass-type sheep already, it made sense to use it to create this Pokemon (It's speed is also high, which is pretty common in Electric-types).
I wanted to keep the cuteness that Whimsicott already has for this design, especially seeing as all my other designs have had a lot of dark undertones. I know a lot of people like how cute Whimsicott is. My only worry is that it looks a bit like Flaaffy, but the colours I had in mind for this design are very different.
The design itself obviously comes from Thunderclouds, Cotton and the legendary Vegetable Lamb of Tartary, which Whimsicott is based on anyway. There's also a bit of goat thrown in there where the horns are concerned.
I'd imagine this Pokemon would be more of a Physical Attacker than anything else, getting moves like Horn Leech, Wild Charge and other moves like them to take advantage of it's typing.
I still need a name for this one, so if you have any suggestions please leave them below
7. Eqiline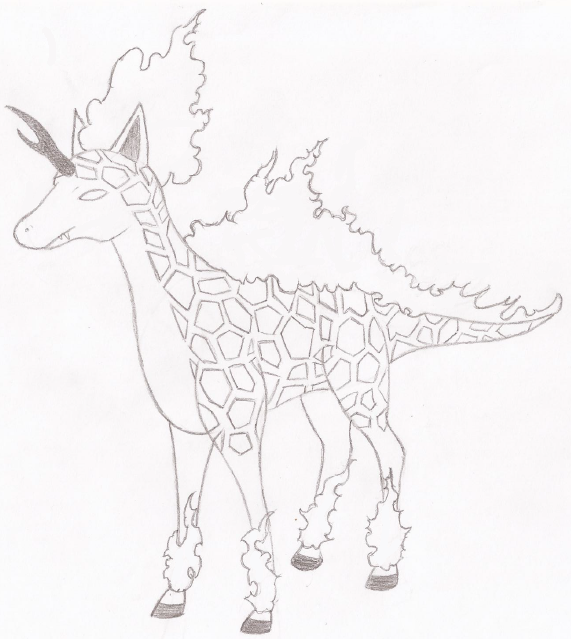 It's been a while since I designed something new, having gone back and touched up some of my older designs, so I decided to design another fake evolution for an existing Pokemon. In this case, that Pokemon is Rapidash.
Fore some reason, everyone seems to want Rapidash to evolve into a Fire/Flying-Type Pegasus Pokemon. Personally, I think that's a little bit boring, so I dug around a bit and found a much more interesting mythical beast to base a design on, that being the Qilin.
The Qilin is essentially a draconic, scaled horse in Chinese mythology, said to appear to be covered in flames. Of course it fitted a Rapidash evolution to a T, so I designed Eqiline. Of course, it's a Fire/Dragon-Type.
At first, I struggled to think of ways to make it interesting. There's not a lot you can really do with a flaming horse other than make it bigger and add more flames. But then I found out that Qilins have something of a link to Giraffes. Apparently, the scales of the Qilin come from the Giraffe's spots, which are a little bit scale like I suppose. Because of this link, I'd finally found a way to make the design interesting.
So, Eqiline's Giraffe-like markings are actually scales. I added fire running all the way along it's back and onto the tail, rather than separate fires for those body parts, and flames that surround the ankles rather than sprouting from the back of them. I'd imagine these flames to be the same colour as Rapidash's flames, but with purple tips. The horn is also different from Rapidash's, as I tried to make it resemble the horns that are normally depicted protruding backwards from a Qilin's head, and there's now a little set of fangs in it's mouth, an idea which I got from a few different kinds of deer which have fang-like tusks.
The name of this Fakemon comes from Qilin, as mentioned, and the word Equine.
I hope you liked these designs. I'd very much like to see more capable artists than myself have a go at drawing these, and they can ask me for colour references if needed.
Any feedback on the art is appreciated. Thank you
Last edited: