And, as if by magic, the webmaster appeared...
Staff member
Admin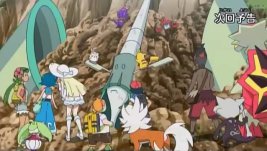 Shine On, Starship Celesteela!
Sophocles has found a massive piece of bamboo buried in the ground, but while unburying it, he finds a face which starts laughing. Thinking it's a character from a story he heard as a child, he requests everyone's help to dig it out. However, Team Rocket also have their eyes set on it. What is this Pokémon? Will Ash & Co. be able to protect it?
Visit The Episode Guide
Discuss