Ma! There's a weird 'nuki in the yahd!
Time to see about sets for some more RU pokemon~
----------

Ninjask
@ Choice Band
Infiltrator/Speed Boost
Adamant
252 Attack, 4 SpDef, 252 Speed
- U-Turn
- Aerial Ace/Return
- Night Slash
- Fury Cutter/X-Scissor/Return
Naturally the fastest pokemon out there (with the exception of Deoxys-Speed) at 160 base Speed and with a decent 90 base Attack, Ninjask can actually be good for more than just sending Speed Boosts and Swords Dances over to its allies. With this set, the ability is less important, since both are useful; Infiltrator will allow Ninjask to ignore Substitutes on the opposing side, while Speed Boost will ensure it outspeeds even opposing Scarfed pokemon. Personally I prefer Inflitrator, since the only things that'll be outspeeding it are things with Speed setup moves or Choice Scarf, but keeping it with Speed Boost could trick the foe into trying to set up hazards on you thinking you're using a Baton Pass variant. U-Turn, Aerial Ace, and Night Slash give Ninjask good neutral coverage, with two of the three offering STAB and Night Slash being a good option to handle Steel types. The fourth option is harder because, though the above three moves do offer nice coverage, they are the only types Ninjask gets aside from Normal type moves and Dig. Fury Cutter is a risky option here, as its initial hit is weak, but Ninjask's strength will rapidly build up while using it, so if you can get it in on something it could OHKO with the first hit of Fury Cutter, you could sweep the opponent's entire team with enough time to build up. X-Scissor is a much safer option, but it's not a whole lot stronger than U-Turn, making it really only useful if you don't plan to have Ninjask leave play but a Bug move might be most effective. Return is going to be Ninjask's best Normal move and is actually more powerful than Aerial Ace even accounting for STAB, but Normal doesn't really hit anything extra for neutral damage besides Dedenne. EVs are pretty obvious; Attack and Speed maxed out, spare EVs in SpDef (since putting them in HP would put Ninjask's HP at an even number, which is kind of a problem for something 4x weak to Rock).
Now, all that said, it has one major weakness; priority attacks. While its double-resistance to Fighting may allow it to survive a Mach Punch or Vacuum Wave, it's likely to get mashed into locust pudding by a Bullet Punch, Quick Attack, and especially an Extremespeed or Ice Shard. And used by something strong enough, even a Fighting priority will kill it, thanks to its horrid defensive stats. Furthermore, a Speed Boost variant won't appreciate Prankster Substitutes much. Paralysis will also demolish it, since its Speed is something it relies on a lot to get rid of other low-Defense threats, and things that can take a physical hit well enough won't care about getting hit as long as they can counterattack. As such, physically defensive bulky attackers should be dealt with before trying to sweep with this guy.
----------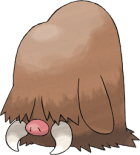 Piloswine
@ Eviolite
Thick Fat
Impish/Careful
252 HP, 4 Att, 252 Def/SpDef
- Stealth Rock
- Earthquake
- Ice Shard/Avalanche
- Curse/Substitute
I was actually a bit surprised to see that Piloswine's defensive base stats are almost all the same as Mamoswine's, only losing out in 10 HP; most of the stats boosted by its evolution are offensive. This makes Piloswine a surprising threat in RU as it's able to do much of what its parent can while having access to Eviolite for additional bulk. Its beefiness makes it great to set up Stealth Rock, and it still has a decent 100 base Attack to allow it to make good use out of its STAB attacks. Earthquake is pretty much required, while the Ice move could either be Ice Shard for priority or Avalanche for power, and between the two moves the only thing that isn't at least hit for neutral damage is Shedinja. Substitute could be used to block status while Curse beefs up Piloswine's Defense and Attack at the cost of Speed that it wasn't really using anyway. Its Thick Fat ability nullifies its Fire weakness and gives it pseudo Ice resistance, and while it's still left with several weaknesses, its natural bulk helps make up for them.
Probably its biggest downfall is that it's lacking any form of good recovery. While its got superior defenses to Mamoswine thanks to Eviolite, this means it loses out on the recovery of Leftovers. It's also going to be pretty obvious what it's holding; you don't just bring an defensive pokemon that isn't fully evolved without giving it an Eviolite, so it's going to be a magnet for Knock Off. That said, it would do great in any weather; Sun will help blot out its Water weakness, Rain will stifle Fire further, and it takes no damage from Sand or Hail, as well as getting the Snow Cloak ability if used for a Hail team. It can also be awesome in Trick Room with a -Speed nature, especially with Curse, since then it'll be able to act as fast bulky offense.
Last edited: