And, as if by magic, the webmaster appeared...
Staff member
Admin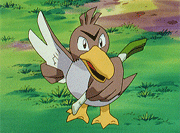 So Near Yet So Farfetch'd!
When Misty's Pokeballs are stolen by a Farfetch'd, Ash & Co. go to investigate to try and find the thief and get all the stolen things back. Can they do this and help the thief change his ways?
Visit The Episode Guide
Discuss