And, as if by magic, the webmaster appeared...
Staff member
Admin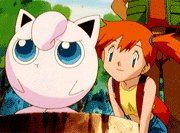 The Song of Jigglypuff!
Entering a bustling Metropolis where everyone is tired and rude, Ash & co find a Jigglypuff who is too shy to sing. Realising they can kill two birds with one stone...Misty tries to teach the Jigglypuff to sing. Can they succeed in this?
Visit The Episode Guide
Discuss