And, as if by magic, the webmaster appeared...
Staff member
Admin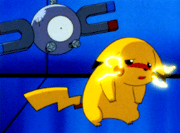 Sparks Fly For Magnemite!
When Pikachu gets ill, Ash & Co take it to a Pokémon Center to find out there is no power coming from the Power Plant. They go to investigate to find a hundreds of Grimer led by a Muk stopping electricity being generated...and to make matter worse, Pikachu is being stalked!
Visit The Episode Guide
Discuss