And, as if by magic, the webmaster appeared...
Staff member
Admin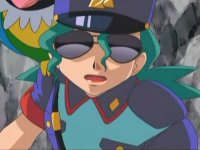 The Wild Jenny & Her Partner Chatot!
On their way to the next town, Ash & Co. meet up with an Officer Jenny. This Jenny takes a more hands-on approach to crime solving. Partnered with a Chatot, she can help stop any crime. Coming from Kanto, this Officer Jenny has come specifically to find Team Rocket, who she had a report was following Ash around. However, Team Rocket soon have their eyes set on Jenny's Chatot...
Visit The Episode Guide
Discuss