And, as if by magic, the webmaster appeared...
Staff member
Admin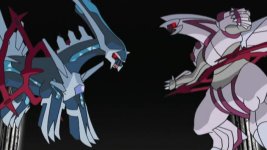 Dialga and Palkia! The Final Battle!!
With the legendary pixies now under Cyrus' control, Team Galactic are heading to the Spear Pillar to awaken Dialga & Palkia. Having been captured, Ash & Co. are facing a terrible trial. Will they be able to prevent Dialga & Palkia being awakened and will they be able to save the world?
Visit The Episode Guide
Discuss