And, as if by magic, the webmaster appeared...
Staff member
Admin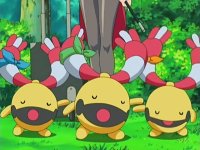 Pull Yourself Together, Chingling!
On their way to the next town, Ash & Co. meet a trainer who is putting on a magic act with her three Chingling. However, one of them cannot seem to get things right, and to make matters worse, James from Team Rocket wants one of the Chingling for his Chimecho to play with as well as the rest for Team Rocket. Can the Chingling be protected and learn the Magic Act?
Visit The Episode Guide
Discuss