And, as if by magic, the webmaster appeared...
Staff member
Admin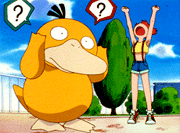 The Bridge Bike Gang!
Ash & Co. have to get across to a City over a bridge, however you need a bike to go along it. The only way they can get the bike is if they deliver Medicine to the Pokémon Centers...however there is a Bike Gang that intends to stop them. Can Ash get the medicine there in time?
Visit The Episode Guide
Discuss