So, who's going to take my place, I wonder? Anyone have any ideas? Just throwing that out there... Oh! What do you know? Other people talking about the same topic! And other stuff! Do you know what that means? Reply time! Alright! Let's-a go:
That's depressing... this is one of the few active threads I'm subscribed to...
You know, your loyalty really means a lot to me. Thanks for sticking around this long, through thick and thin! Long live the VampirateMace! And all of the other faithful captioners, too!
Suppose I could try, but we already saw how my photo caption thread went....
It's OK. You know, it's really a shame that that never took off. I liked it, especially since I had a good picture I had planned of submitting for use! But, these things can't really be controlled. You'd be surprised how much hard work it really is to keep a good Caption Contest thread up and running! If you decide to take your chances with it, I have a feeling you might do pretty good, though! You seem to have the right motivation for the role, after all, being loyal to this thread all this time!
This would be a caption... if Mace was not a mindless Meowth drone who can't think...
Man, that's genius! Why didn't I think of that? hate it when captioners come up with more creative/funny ideas for my own pictures than I do, after they're already done! But oh well, it's still a lot of fun to read these things like this! I'll surely miss that part!
Aw, now I feel guilty. I've just been watching from afar recently.
I wondered why you had not been around, lately! I was really starting to worry that maybe I was becoming really bad at this, if you even left! He who was kind enough to loan me use of his sprites and characters for my crazy Caption Contest pictures! If I lost you from here, too, I must really be doing something wrong, I'd think!
Fortunately, as a british citizen I know the 2nd of the 18th doesn't exist, and you are just bluffing.
Ah, yes, you caught me! My American wit is no match for your British intellect! I feel so ashamed to have been caught in an embarrassingly shallow sham like this! Please forgive my laziness in hiding the truth!
I'm sure if we can't actually find one permeanant artist, we could have a collaborative rota, taking turns.
Yes, me too! I think that sounds like a very good idea! You have a gift, I believe, and it is well-suited just for this type of thing! I tink you would make a great Caption Artist!
Surfer Treecko is clinically insane, so I'm sure he'd be good at this.
Yes, that
is
pretty much one of the basic qualifications!
maybe I could replace this one if that's ok with you
Well, I don't know. I'd say you'll have to take that up with the other candidates that want the position. Who knows, maybe you could be one of the joint owners/Co-Artists of the new thread! Just try and discuss it if you are truly interested, and let your ideas and opinions be heard. That's all I can say, really.
Anyway,
contest closed
! Here's our results for this year's first contest:

First Place:
Giovanni: INSPECTION! Lyra: INFILTRATION! Slowbro: EVOLUTION! D911: CANCELLATION! End! Over! Done! Rocket Grunt: What a stick in the mud... No one even got to yell OBJECTION!

Second Place:
Giovanni: D911 was an awesome guy. He was a true artist. Thats why he'dWANTEDMETOFIREMAHLAZAH!!!!! Grunt: What the hell! He's already done this in the other caption! Me: Yes everyone. I have defied the laws of the squiggly line.

Most Creative:
Rattata: I love you.
Rocket Grunt: *steps back*
Rattata: No, I really do love you.
Rocket Grunt: *Panicky*
*steps back more hastily*
Rattata: I really really do.
Rocket Grunt: *Turns to run away*
Text Box: Couldn't run.

Most Random:
Persian: What are you waiting for Giovanni? Start shooting! Giovanni: NO! I must wait for that UFO!
Congratulations, winners (and those who finished this entire post)! Here's our next, new picture: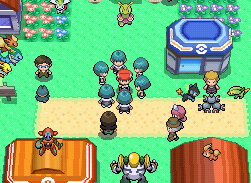 This contest ends on
January 15, 2011
. Now get captioning before Lucas realizes he's not playing on a DSi!