And, as if by magic, the webmaster appeared...
Staff member
Admin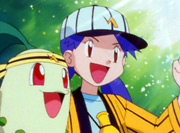 The Double Trouble Header!
Heading to Violet City for the first gym, Ash & Co. meets Casey, a new Trainer who just got her first Pokémon, A Chikorita who eagerly challenges Ash to a battle. When Ash easily beats her with his Charizard, she gets upsets and runs off wanting revenge. Will she get it?
Visit The Episode Guide
Discuss