And, as if by magic, the webmaster appeared...
Staff member
Admin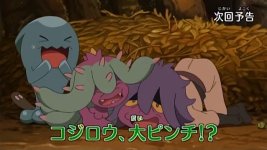 The Extracurricular Lesson is on Mareanie?!
Everyone has gone to the Melemele Sea for an extracurricular lesson, but Team Rocket have also come to the area in search of new Pokémon. However, while hunting for Pokémon by fishing, they soon discover a mysterious new Pokémon, Mareanie, and one of the Mareanie takes a liking to James. Will James get his first Pokémon in Alola?
Visit The Episode Guide
Discuss