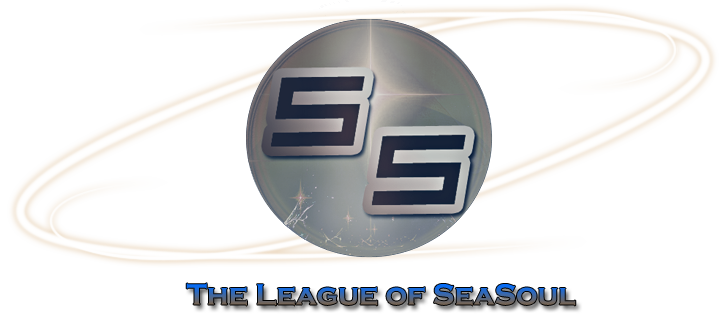 Challenges....Obstacles...Gyms....Leagues. All have some relation to the sea. Without the water that surrounds us, man wouldn't have been able to create these magnificent things. This, young challenger, is what the official Team SeaSoul League is all about. It was designed to have the ideal gym leaders, the most strategetic Elite Four members, just to bring out your true strengths. Sure, you might lose, but you shall build upon those mistakes, sharpening your skills on the way. Prepare, challenger, to face the almighty League of SeaSoul!!!
Come and give it a try, also keep in mind that

FUN

&

JOY

are assured!!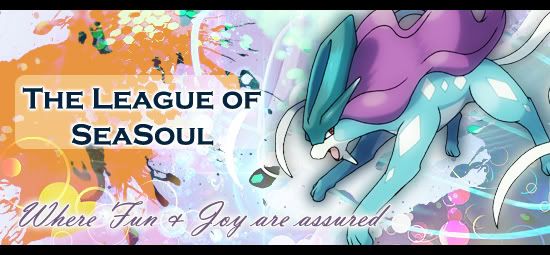 This League is sponsored by Team SeaSoul, and has been made thanks to the inspiration provided by the will of their loyal members.

Prove your MIGHT & INTELLECT by overcoming the challenges of 8 Gym Leaders, and 4 Elites…. Show everyone that you're worthy of becoming the Supreme Battler!!
This league contains various Gym Leaders & Elite Four who are very skillful in the art of battling! Challenging this league requires the skill in all battling styles. You may face gym leaders or elite four which play any of single, double, triple, or rotation battles, and that makes the winner of this league a real SUPREME BATTLER who can rule the game in different battling styles. Display your skill and make your way toward the four Legendary Symbols!!!






The Rules:


- The entire staff of the league (Leaders and Elite 4) will be divided in 4 Divisions (each division is formed by 1 Elite and 2 Gym Leaders) where after defeating the 2 Gym Leaders the challenger can battle the the Elite.
- Obviously, follow all Sppf rules.
- All Single Battles will follow the standard rules, however they can't be flat. Double Battles will follow both the standard and the flat rules.
- In order to register, you're required to use both WiFi and Pokemon Online.
- This League only accepts 5th generation battles.
- You're not allowed to use a team which counters the type of gym you're challenging; the maximum number of counter-type pokemon you can use in your team is two. You may use more than two counter type pokemon if the gym leader or the elite four member allowed the challenger to do so.
- If you lost a battle, you must wait for at least 2 days before having a rematch with a Gym Leader.
- If you lost a battle, you must wait for at least 3 days before having a rematch with an Elite Four.
- If you lost a battle, you must wait at least 5 days before having a rematch with a Champion.
- Don't Spam, troll, or multi post in a row, if you wanted to add something just edit your last post without posting again in a row.
- You MUST always be polite with others; no insulting is accepted at all. If you got insulted or caught any controversial situation please PM me.
- Hack, Pokesav, over-maximum stats pokemon are not a llowed at all.
- Once you win against a GL or an E4, the video of that battle will be recoreded and sent to the GTS by WiFi, if the video wasn't sent you'll lose that battle and get a warning for the first time.
- The Ubers list is here; please avoid the use of everything listed.
- Do not advertise for other websites and forums.
- Disobeying these rules will only cause you troubles, we'll make an appropriate action toward you in such a case.
- Do not reveal the GLs and E4 teams after battling them, don't mention any of their pokemon.
- Gym leaders have the privilege of challenging the league, due to the Badge for Badge rule.
- You need the Two badges of the division to be able to challenge the Elite Four.
- If any Gym Leader/Elite Four loses due to Game Changing Hax or any Major Hax, they may request a rematch
-If any Gym Leader or Elite Four don't have a battle within a week without notice, they will be Kicked out as their position and will immediately be replaced.
-Any Champion that is Dethroned and Wants his Posistion Back must Rechallenge the whole League

The Registration Form:
Please fill this form and post it in this thread, and I'll see and accept it as soon as possible.
Code:
Forum Username:
FC: 
PO Name:
The Rewards:
- Winning the league makes you a Kyogre in Team SeaSoul automatically by just being a member in it.
- Getting a badge for each gym leader you defeat.
- Having fun.​




The Badges & The Legendary Symbols Links:



Obviously for any who want to put the badges in their sigs, please click here.


Give it your best BATTLER!!! Prove your SKILL!!!
Credits:
Chelsea Star (Making the thread)
MufinSkullzFTW (Writing the Introduction)
Nakashima (Making the breaking bars)
Ginji (The League's idea)
​
Last edited: