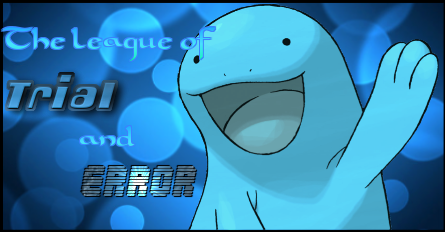 "Learning doesn't happen from failure itself but rather from analyzing the failure, making a change, and then trying again." - Wikipedia
We all fail sometimes, but then we only improve on the failure to try and succeed. If we fail again, some people may give up, but some will get back up and try again.
For the league Xat, click here

1. This league is
PO only.
2. There is no order to challenging the gyms, but the e4 must be challenged in order!
3. Gym leader's/e4 have a 2:4 team ratio of their type but they may have more of their chosen type.
4. If you lose to a gym leader, u must wait 2 days to rechallenge them.
5. if u lose to an elete 4, u must wait 3 days before rechallenging them.
6. If u lose to the champion, u must wait 5 days before rechallenging them.
7. No counter teaming. if the gym leader/e4 thinks ur counter teaming and can prove it, they can get a rematch.
8. Gym leaders/e4 can be challengers as well.(ofc they cant get their own badges).
9. No team reveal.
10. Do not used banned pokemon and items:
Banned Species
Arceus
Blaziken
Darkrai
Deoxys (Attack Forme)
Deoxys (Normal Forme)
Dialga
Garchomp
Giratina (Altered Forme)
Giratina (Origin Forme)
Groudon
Ho-Oh
Kyogre
Lugia
Manaphy
Mewtwo
Palkia
Rayquaza
Reshiram
Shaymin (Sky Forme)
Zekrom

Banned Items
Soul Dew (Unattainable in game).
Brightpowder
Lax Incense

Code:
Serebii username:
PO name:
Serebii username: WhiteStone30
PO Name: WhiteStone30
Serebii username: Bestgamepearl
PO name: [Drac]Bestgamepearl
Serebii username: Psycho Cut
PO name: PsychoCut
Serebii username: Original151Rocks
PO name: Unitas
Serebii username: TheBluePorygon
PO name: [T3]Pory
Serebii username:acetrainerdov
PO name:dovvy/[totw]lance
Serebii username: Ishida
PO name: Ishida
Serebii username: TheMaster
PO name: [Drac]TheMaster
Serebii username: Tyranitarquake
PO name: [Drac]Tyranitarquake
Serebii username: HydroSwampert
PO name: TorrentMudkip
Serebii username: Inchtall
PO name:[TSS]Inchtall
Serebii username: Nephos
PO name: Nephos
Serebii username: shadow130690
PO name: shadow130
Serebii username: Theebay707
PO name: Myles 'tails' prower
Serebii username:Scubasteve23
PO name:Scuba Steve23
Serebii username: ShadowSplash
PO name: Splash
Serebii username: Extroph
PO name: [GVV]Extroph
Serebii username: MGOShockWave
PO name: MGOShockWave
Serebii username: tavogus
PO name: [GVV]Tavogus
Serebii username: rotomotorz
PO name: [BI]Plazma
Serebii username:Makaveli
PO name:Makaveli


TheMaster
PO name: [Drac]TheMaster

Acetrainerelliot
PO name:

Theebay707
PO name: Myles 'Tails' Prower
Tyranitarquake
PO name: [Drac]Tyranitarquake

CrAzY RuDoLf
PO name: Meep meep

Slowking79

PO name:johann35

Lucs99

PO name: [Drac]Lucs

MGOshockwave

PO name:


BLUE-MEW

PO name: Red not blue
Acetrainerdov

PO name: Dovvy

TheBluePorygon

PO name: [T3]Pory

D.Gray Man

PO name:
Credit: Northern Lights for the badges
​
Last edited: