M.L.S.S. stands for Marine1988 (who's now gone..*sniff*), leeloo~theRedQueen (me), Skater959, and Sython429. This is an everything (almost) shop so you request it and we make it.
REQUESTS ARE CLOSED!
Unless there's someone filling requests... check the last page to make sure.
and if they're open: knock yourselves out. i can fill a couple if need be.
PLEASE READ THE RULES BEFORE REQUESTING!
>>>>>>>>>>>>>>>>>>>>>>>>>>>><<<<<<<<<<<<<<<<<<<<<<<<<<<<<<​
i hate strict rules, so i'm going to try to limit this the best i can.
1. don't spam/flame
2.
don't steal!
(even if you didn't request. cuz seriously, that's REAL sad)
3.
give credit for our work
4. limit of 3 requests per person. if we're just sitting around bored/looking for requests then i can ignore this rule. if you are trying to get 6-7 requests for a trainer card, please say so.
5. don't rush us, we're doing our best and that takes time
6. eye for an eye rule (if anybody objects then PM me) this rule means that you will be treated the way you treat us.. so if you act crappy, i'll act crappy back.
7. each of us can take 3 requests at a time. there are plenty of us working here so we shouldn't overload too much.
8. please state who you would like to take your request- it will make it much easier for us.
9. we don't require you to fill out any forms, just picture your request in your head, and describe it the way you see it.
10. don't PM any of us your request. that's technically rushing us. and if you PM it to
me
, it won't be done any faster anyways.
11. this isn't really a rule just a "guideline": please actually use what we've made you somewhere. cuz it's stupid to just request it to know what it would look like or to add to your sprite collection on your comp, or whatever else you wanted to do with it.. please actually use it somewhere as a gesture of courtesy
note: boobers are baby ubers/ baby legendaries
so there you go, our examples are posted below.:.
********************************************************
*~*~*~*NEWS:*~*~*~*
WE HAVE AN ANIMATOR!!! i am happy.
OH MYY GOD! marine is.... GONE! your legacy shall live on... maybe i'll change the name of this place.

****************************************************************
EMPLOYEE LIST:
Crystal Remedy
Skater959
Pokefan26
¿Castform?
Topaz Charizard
Shadow Ho-oh
​
*~*~*~*these are MY examples*~*~*~*
​
(i personally would prefer it if you supplied me with the sprites you want me to use. it would make your request faster/easier to make, OR tell me where you want your sprites from: pokesho, PE2K, etc. and ALWAYS GIVE CREDIT)
this is what i do: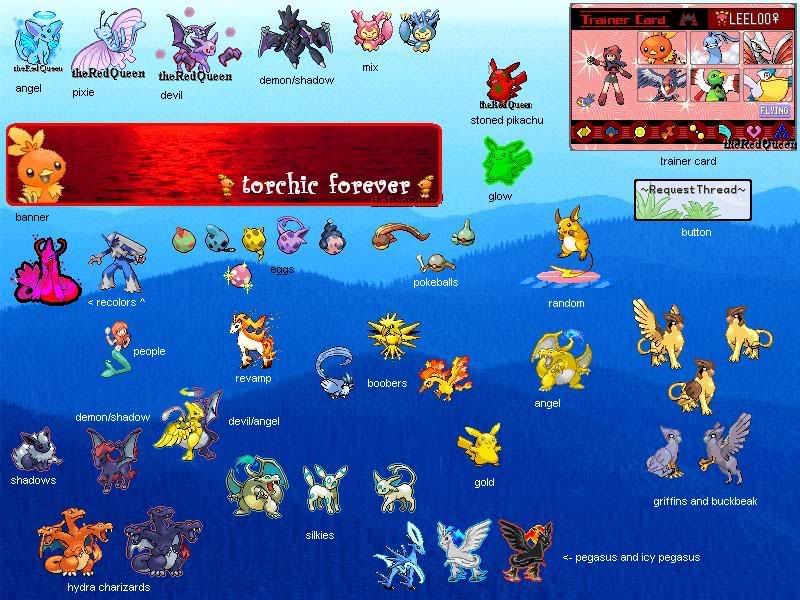 (i hope that pic isn't too big. someone tell me if it is)
aka: my srites really aren't that wierd... pic's in jpeg.
and i'll try my hand at neons as well...
wite-be-gone: can do upon request
pokemon status screens, can do those too
can do trainer mixes
(will attempt berry/item mixes/recolors)[/CENTER]
and whatsuchother things your twisted little mind can think up.​

*~*~*~*CRYSTAL REMEDY'S EXAMPLES:*~*~*~*
​
demons
mix
http://img330.imageshack.us/img330/...arcanine1wt.png
boobers
recolor
http://img330.imageshack.us/img330/...eracross0ji.png
i will try to make an egg but i am pretty sure i can make them.
revamp
revamps do take me a while so dont rush me. i like to take my time to do it.
trainer cards
banners
http://img50.imageshack.us/img50/22...rdbanner8ra.png
[/LEFT]
*~*~*~*SKATER959'S EXAMPLES:*~*~*~*
​
mixes demons and angels.
Here are some examples:

Demons:

Revamps:

http://img331.imageshack.us/img331/...worevamp9yt.png
Mixes:

Angel:

http://img345.imageshack.us/img345/...elflygon6uk.png
Boober:
Recolor:

http://img345.imageshack.us/img345/...ecolored6pz.png
trainer cards:
~*~POKEFAN26's EXAMPLES:~*~
​
Recolors:
Angels:
Banners with Text on them:
Edits:
White-Be-Gone​
~*~¿CASTFORM'S EXAMPLES:~*~​
~*TOPAZCHARIZARD's*~ EXAMPLES:*~
​
Recolours:
http://img369.imageshack.us/img369/3862/kool5nz.png
Mixes:
http://img369.imageshack.us/img369/6883/mmixes2lf.png
Inverted:
~*~SHADOW HO-OH'S EXAMPLES:~*~​
angel devil mix
fusions
trainer cards
Revamps
Devamps
White be gones
Check my sig
Magectics, Devils, Angels, & Type Changes
I can also do animations and shadow
~*~*~*~*~*~*~*~*~*~*~*~*~*~*~*~*~*~*~*~*~*~*~*~*~*~*~*~*~*~*~*​
if you would like to work here then PM Marine1988, Skater959, Sython429, or myself.​
Last edited: